Seventh Grade Literature Vocabulary
VocabularySpellingCity has vocabulary word lists based on seventh grade books, poetry, and dramas from the Common Core State Standards literature selections. Our literature-based vocabulary word lists, free printable worksheets, and other resources support your students' growth and learning to meet English language arts standards. Read MoreRead Less
Increasing Vocabulary for 7th Grade Reading Success
As your students' reading skills mature, they can use grade-appropriate literature to expand their knowledge of the world, explore different cultures and topics, and begin to understand and describe relationships in more sophisticated ways. VocabularySpellingCity's seventh grade reading lists are carefully chosen to match your students' reading abilities and educational needs. Use these English vocabulary lists with our interactive games and middle school language arts activities to help students understand and acquire vocabulary that conveys new concepts, sophisticated interrelationships, and shades of meaning.
Spelling is an integral part to continue to acquire vocabulary. Easily incorporate spelling into your reading instruction by importing your word lists or pairing a ready-made seventh grade spelling word list with over 35 learning games and activities.
Seventh Grade Short Stories, Novels, and Poetry
VocabularySpellingCity's literature lists help you choose literature for middle school students. Ready-made literature-based vocabulary word lists can be used in conjunction with our many vocabulary and spelling activities. You can even modify the list of vocabulary words to match your 6th grade language arts curriculum. Use the lists to print vocabulary activities such as our Crossword Puzzle or Word Search. Or engage your students in practice with middle school language arts online games.
Common Core State Standards for Literature and Language
VocabularySpellingCity's vocabulary word lists include middle school reading and poetry selections from the Common Core State Standards literature list. Using these books, students learn skills that help them meet the requirements for both the Literature standards and the Vocabulary Acquisition and Use standards. For example, students may work to meet language standard L.7.4. "Determine or clarify the meaning of unknown and multiple-meaning words and phrases based on grade 7 reading and content, choosing flexibly from a range of strategies" as they read. Then, further work with the vocabulary list will provide them greater insight into the meaning, shades of meaning, and use of the words as they work with online and printed activities in the context of meaningful sentences and definitions. VocabularySpellingCity's vocabulary practice activities will help your students develop strong skills in reading comprehension, communication, and standardized tests.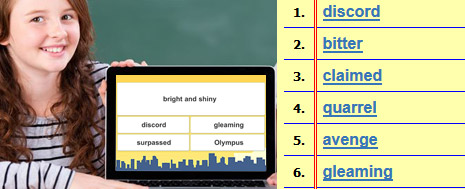 The following games are recommended for 7th Grade Literature Vocabulary Lists.