Fifth Grade Reading Vocabulary
VocabularySpellingCity has vocabulary word lists based on 5th grade classic literature that is just right for reading instruction in your classroom as well as a variety of 5th grade vocabulary games to choose from. As students explore Common Core State Standards literature selections, classic literature, and other 5th grade books, our literature-linked vocabulary word lists, free printable worksheets, and other resources support your students' growth and learning to meet 5th grade reading words knowledge & comprehension goals. Read MoreRead Less
Increasing Vocabulary for Reading Success
As 5th grade students' reading skills mature, they can use literature to expand their knowledge of the world, explore different cultures and topics, and begin to understand relationships in more sophisticated ways. An important component of learning through literature is understanding and acquiring new vocabulary that conveys new concepts, sophisticated interrelationships, and shades of meaning. VocabularySpellingCity notes three popular reading level measurements for each book on the 5th grade literature list to help you pick books that are at appropriate reading levels for your students, exposing them to vocabulary they need to understand as they become older and tackle more complicated and nuanced subjects.
Spelling is an integral part of learning how to read, students benefit greatly from incorporating spelling into beginning reading instruction. Easily incorporate spelling into your reading instruction by importing your word lists or pairing a ready-made fifth grade spelling word list with over 35 learning games and activities.
Fifth Grade Short Stories, Novels, and Poetry
VocabularySpellingCity's literature lists include different kinds of literature to read independently or as a class. A vocabulary word list accompanies each work of literature. These words can be used in conjunction with our many vocabulary and spelling activities. You can even import the lists to your account and modify the words for each reading group or individual student, including 5th grade literary terms, techniques, or themes your students are learning about. Use the lists to print 5th grade vocabulary worksheets or have your students work online to play 5th grade vocabulary and spelling games. Many of the online activities are printable and make great additions to your 5th grade literature units.
Common Core State Standards for Literature and Language
VocabularySpellingCity's vocabulary word lists include independent reading and poetry selections from the Common Core State Standards literature list. Using these books, students learn skills that help them meet the requirements for both the literature standards and the vocabulary acquisition and use standards. For example, students may work to meet reading literature standard RL.5.4. "Determine the meaning of words and phrases as they are used in a text, including figurative language such as metaphors and similes." Learning new words with the help of VocabularySpellingCity's online games and activities and printable worksheets will also help fifth graders meet language standards such as this one: "L.5.6. Acquire and use accurately grade-appropriate general academic and domain-specific words and phrases, including those that signal contrast, addition, and other logical relationships (e.g., however, although, nevertheless, similarly, moreover, in addition)." This new vocabulary will help your students in reading comprehension, communication, and standardized tests.
Here's at a glance a few fifth grade literature word lists you can import, pair them with over 35 5th grade vocabulary practice learning games and activities.
M. C. Higgins, the Great:
narrative, arbor, furtively, plateau, veer, commenced, congealed, rubble, outcropping, undergrowth
The Little Prince:
urgency, fond, daybreak, command, acquaintance, consoled, etiquette, caravan, extinct, authority
The Black Stallion:
frantically, gnarled, clenched, illuminated, hesitantly, stallion, mercilessly, remnants, cinch, bridle
The Secret Garden:
alcove, tremulously, menagerie, shrewd, leniently, languid, rouse, appalling, indignation, victual
Alice's Adventures in Wonderland:
caterpillar, chimney, croquet, flamingo, lobster, mushroom, riddle, serpent, sneeze, window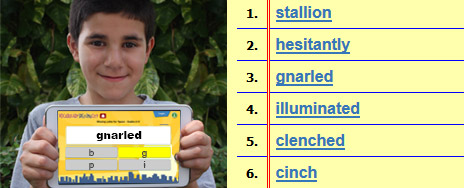 The following 5th grade vocabulary games are recommended for Reading Vocabulary Lists.


Crossword allows students to fill in a crossword puzzle using words on their list.
Play Crossword with a 5th grade Reading list.

We know how difficult it can be when you are trying to find dependable and fun curriculum that works for your families and students. With us, you don't have to worry. Contact VocabSpellingCity today for more information about our activities, 5th grade vocabulary games, and more!