8th Grade Vocabulary and Spelling Word Lists
VocabularySpellingCity offers free lists of 8th grade spelling words and vocabulary practice activities that help make writing lesson plans and units of study easier. Eighth grade teachers can import word study lists to assign interactive games and activities to students that will provide practice with words students need to know to increase reading comprehension and to help close the vocabulary gaps. Word lists support eighth grade English language arts curriculum, as well as spelling words for 8th grade in specific subject areas including math, science and social studies.
Eighth grade spelling lists include content specific vocabulary, such as 8th grade math, 8th grade science, and 8th grade social studies. Teachers of all subject areas can use word lists to supplement lessons and vocabulary lesson plans. For example, eighth grade math teachers can access geometry based 8th grade spelling word lists or create their own geometry vocabulary lists to further review key terms. Including vocabulary lesson plans in eighth grade study has never been easier.
VocabularySpellingCity also provides Common Core-aligned literature word lists. Featured titles have been selected from the Common Core literature guide and include novels like Mark Twain's The Adventures of Tom Sawyer; poetry like Walt Whitman's "O Captain! My Captain!"; and plays like The Diary of Anne Frank: A Play. Word lists can be used during novel or literary studies and can further be paired with educational exercises for additional practice.
Teaching 8th Grade Spelling Words
As eighth grade marks the end of middle school, curriculum focuses on strengthening previous skills while building new knowledge in preparation for high school. As students exit middle school and enter high school, the vocabulary gap widens, and VocabularySpellingCity is a great solution for helping students to close those gaps. Teachers have the task of instructing eighth grade students on how to become self-sufficient learners. VocabularySpellingCity offers students independent practice to build 8th grade vocabulary knowledge in all subject areas.
In eighth grade, students should be reading various genres, including informational text. Informational text increases in volume as students enter middle school and high school. It may be very difficult for students to read informational text if their knowledge of 8th Grade spelling words and vocabulary words is lagging. VocabularySpellingCity offers varied content-specific vocabulary lists in different subject areas to help build vocabulary. Eighth grade math and science teachers can use a learning activity like FlashCards to help students build content area vocabulary. For example, eighth grade science teachers can import lists on topics like kinetic energy, anatomy, or changes in matter to review and reinforce the concepts taught in the classroom.
Eighth graders will encounter unfamiliar words in both literature and informational text. VocabularySpellingCity provides students with the option of creating their own lists, allowing students to personalize their word study. Students can type in terms that they do not recognize and can choose which definition best fits the text or content in which the word is used. Eighth grade students can then pair their lists with learning activities in order to build word knowledge in a way that not only gives them choice but allows them to take control of their own learning. Students may use this feature while reading literature or poetry as well as when studying from a science or social studies textbook. Teachers can include student lists in their eighth grade lesson plans.
Eighth grade students should be able to use the relationship between particular words to deepen their understanding of the text. This includes understanding that a word's position in a sentence will influence its meaning. VocabularySpellingCity's learning games, like MatchIt Sentences, help eighth grade students practice context clues skills to identify the appropriate word meaning.
Many of the lists we provide also include common eighth grade spelling bee words. Preparation for these events has become much easier with VocabularySpellingCity's 8th grade spelling word lists!
Eighth grade educational standards that are supported by VocabularySpellingCity.
Choose your educational standard. Then choose grade 8.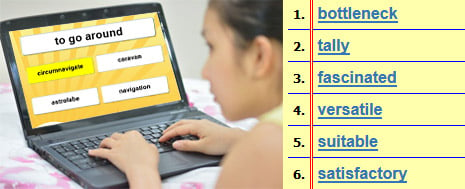 Select a link below to view available 8th grade word lists:
EIGHTH GRADE READING PROGRAMS
Import seventh grade word lists for spelling or vocabulary for each unit as organized in popular reading programs.

EIGHTH GRADE SPELLING
Import eighth grade spelling word lists.

EIGHTH GRADE VOCABULARY
Import eighth grade vocabulary word lists, such as figurative language concepts.
[sc_include_table id="4464″]

[sc_include_table id="4464″]

[sc_include_table id="4464″]

[sc_include_table id="4464″]

[sc_include_table id="4464″]

[sc_include_table id="4464″]

EIGHTH GRADE – OTHER SUBJECTS
Import eighth grade content-specific vocabulary lists.
[sc_include_table id="4464″]

[sc_include_table id="4464″]

[sc_include_table id="4464″]

[sc_include_table id="4464″]
The following games are among the most popular and recommended for middle school students.