Homeschooling Help
I'm the mayor of VocabularySpellingCity and I speak to homeschool families all the time about how they use the best homeschool spelling curriculum VocabularySpellingCity to enrich and simplify their program. I've asked Kelly to describe how she uses VocabularySpellingCity (I'd invite other homeschool families to share how they use VocabularySpellingCity by sending it into us.
Take it away Kelly:
Hi, I'm Kelly and I homeschool my family. When homeschooling a houseful, we're all looking for ways to make things a little easier but no less effective. We're also careful, in my case very careful, with money and we tend to stay with programs that are easy for us. I'm homeschooling five kids and, while I have one who's already through high school, I have several with some special challenges. Since it's an ongoing bright spot in our lives, I was thrilled to be asked to write about how VocabularySpellingCity fits into our homeschool program and help explain what makes this the best homeschool spelling curriculum.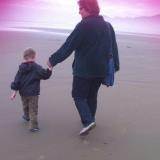 First, a little background on how I homeschool. I need to give my kids math and grammar programs according to their grade level. We do the rest of the subjects as a family, using unit studies. Sometimes the topic of our unit is as broad as "Egypt", and sometimes it's as narrow as "horses", or even "Appaloosas". It's easy to locate topical science, social studies, and art lessons that kids of any age can benefit from. It's more challenging to find grade-appropriate homeschool spelling lists, vocabulary words and writing assignments to complement our study unit.
Enter VocabularySpellingCity with the best homeschool online spelling curriculum! While you may know that Vocabulary Spelling City has an important role in classrooms, I can attest that it has also become a key resource in our home. Our family uses the site as our homeschool spelling program. I was thrilled that this resource also helped with spelling, writing and even penmanship practice, for use with practically any grade level.
I can usually find a vocabulary list for just about any topic or subject we are studying. Whether it's science vocabulary lists, math vocabulary lists, social studies vocabulary, phonics lists, and even holiday lists broken up by month.
What makes this the best homeschool spelling curriculum is how accessible it is. I am able to prepare separate homeschool spelling lists for each child, keeping in mind their personal spelling ability. For example, if we are doing a unit study about lions, the younger children might be assigned words such as mane and roar, while the older ones tackle savannah. I also check their writing assignments for words they've recently misspelled. In each child's list, I include a couple of their own misspelled words, no matter whether the words fit the unit topic or not.
After typing their words into VocabularySpellingCity, most of my work is done. Being that this is the best homeschool spelling curriculum, there are a variety of memberships you can choose from so you can have accessibility to all of the tools for your homeschooling program. I have a premium membership, so I'm able to assign certain games or activities for whenever I wish. Usually, I'll just assign an amount of time that I want them to study their homeschool spelling words, and let them choose which online games they want to play with their words. The games are a great way to study spelling, and my kids all have their favorites.
When I do assign specific activities, I choose the ones my kids are unlikely to choose themselves so each child can receive the best homeschool spelling curriculum. They don't get excited about having to alphabetize their homeschool spelling words, but it's a lot more fun to do it on the computer than with pencil and paper. The sound effects and ease of correction make alphabetizing a painless task.
One of the available activities is to write a paragraph that includes their homeschool spelling words. I require a writing assignment for each unit. It's easier for them to write a paragraph or two about our current topic when they have suggested vocabulary (their spelling words) right in front of them. I print their writing assignments and put them in the front of the notebook we keep for each unit. These little essays make a great introduction to the unit topic.
VocabularySpellingCity not only offers families the best homeschool online spelling curriculum, it provides a variety of other assignments you can utilize. The handwriting and penmanship pages were an exciting discovery! I love multi-purpose assignments. Although effective practice, the instruction to write each spelling word several times often seems like pointless busywork to students. Adding a penmanship focus helps this activity make sense. I can choose the handwriting style and whether to include directional arrows, dotted lines, or other helps.
I'll admit that my favorite part of VocabSpellingCity's best homeschool spelling curriculum is the spelling tests. Giving a spelling test to each child, correcting them all, and recording the grades has never been my favorite homeschooling task. VocabularySpellingCity does all of those things for me. I have the option of printing a report or a certificate. My younger children usually choose the certificate, which gets taped to our fridge. Since I have a premium membership, their scores are also available in my online gradebook, so I don't have to worry about jelly smears!
Every time I explore the site, I discover additional resources to use in our unit studies. I consider VocabularySpellingCity to be one of the major labor savers in our homeschool program. Contact them today for more information about the best spelling curriculum in the nation!
*Kelly builds much of her homeschool program around Time4Learning's homeschool curriculum. She has used the curriculum for elementary school homeschooling, middle school homeschooling, and high school homeschooling. Her youngest child is now using Science4Us as the basis for his first grade science program. Her middle and high school students use Time4Writing for help with writing essays.