Middle School Social Studies
Middle school social studies teaches students about US history before and after the Civil War, and also ancient and modern world cultures and geography. Online social studies games and activities help your students learn each middle school social studies unit more easily and thoroughly. Read MoreRead Less
The interactive online social studies games and activities teach both spelling and in-context usage for middle schoolers. Through the wide variety of online social studies activities and games at VocabularySpellingCity, you and your sixth, seventh, or eighth grade social studies students will find the vocabulary acquisition process easier and very enjoyable. We have specially curated sixth grade spelling word lists, seventh grade spelling word lists, and eighth grade spelling word lists that can be paired with our learning activities.
When students know their vocabulary words, they are better equipped to understand the concepts and events to which those words refer. Vocabulary comprehension helps 6th, 7th, and 8th graders alike relate words to a particular context, allowing them to grasp the broader lesson at hand. If students don't understand the words used in a lesson, they are not likely to understand the lesson as a whole. That is why vocabulary comprehension is often the difference between pass and fail on a test. An even greater benefit from knowing their vocabulary is that students' interest in learning is increased simply because they understand more of what they are taught and therefore enjoy learning more. Building vocabulary skills through interactive games and fun learning activities keeps middle school students engaged. Students can practice other subject vocabulary with ready-made word lists in sixth, seventh and eight grade math, science, and literature.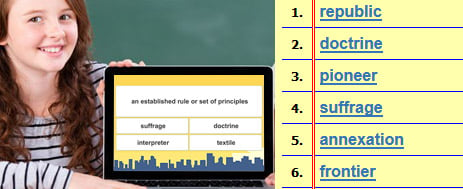 The following games are recommended for Middle School Social Studies Vocabulary Lists.