White Paper on Effective Vocabulary Instruction
VocabularySpellingCity Partners with McREL International on Report About Literacy Challenge Facing Educators, and Solutions to Correct It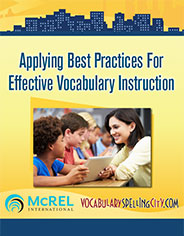 VocabularySpellingCity has released a special report titled "Applying Best Practices For Effective Vocabulary Instruction." The report, written in partnership with McREL International and released on August 12, 2016, describes the challenges schools face in implementing literacy programs effective in vocabulary building and retention, and how those challenges can be overcome using programs such as VocabularySpellingCity, which applies research-based word study techniques to provide effective practice.
For decades, educational researchers have sought to identify the factors most critical in attaining literacy and overall academic success. Studies have consistently confirmed that strong vocabulary is fundamental to reading comprehension, and to all learning. A National Research Council report found that in fourth grade, 70 percent of faltering reading comprehension was due to limited vocabulary.
But how to provide teachers, already overwhelmed with myriad challenges, the tools to deliver successful vocabulary instruction for a diverse, multi-level student group?
Examining the research, VocabularySpellingCity created a teacher productivity tool in which:
Engaging activities are incorporated into vocabulary instruction and can be used in content-specific areas;
Activities incorporate direct instruction, strategic word selection, spaced study practice, and multiple word exposures using multiple modalities, into an existing curriculum;
Teachers can easily design and manage a routine that introduces new words, review explicitly taught words not yet mastered, and revisit words previously taught, whether mastered or not;
Teachers can track individual student understanding and performance on key words;
Students get immediate feedback during practice and after assessments, allowing them to work independently and take responsibility for their own learning.
"We've been developing an understanding of how to dramatically improve students' vocabulary skills," said John Edelson, VocabularySpellingCity's president and founder. "A central problem we see is that, while teachers do teach effectively, they do it under enormous pressure to cover a lot of material in a lesson-per-week routine that does not include the spaced practice necessary for vocabulary retention.
"When content and academic vocabulary, often the keys to vital academic concepts, get introduced, studied, practiced, and assessed in one week and are not revisited, all that learning evaporates," he said. "Teachers know this, but don't have the techniques or time to address it. This is the core problem that VocabularySpellingCity is helping teachers, schools, and districts solve with a program that's easy to implement."
The report outlines research-based word study practices, and how VocabularySpellingCity supports them.
"We're pleased to have established a research-practice partnership with VocabularySpellingCity, focused on a mutual goal of improving education products and services that benefit teachers and students," said Dr. Sheila Arens, executive director of research and evaluation at McREL, a non-profit, non-partisan education research and development organization in operation since 1966. "VocabularySpellingCity's willingness to subject their products to scrutiny is a testament to their commitment to fostering student improvement in fundamental areas of learning."
The report can be downloaded for free at www.spellingcity.com/vocabulary-study.html.