Eighth Grade Literature Vocabulary
VocabularySpellingCity has many tools to help your 8th grade literature students comprehend new vocabulary as it relates to the works they are reading. Looking through these word lists, you will discover vocabulary for a large number of Common Core State Standards literature selections. Using these as a starting point, your students can explore these new 8th grade words and definitions through online interactive vocabulary games, free printable worksheets, flashcards, and other activities. As students read and hear the context-rich sentences and go through the activities, they will expand their vocabulary and increase reading comprehension. Read MoreRead Less
Increasing Vocabulary for 8th Grade Reading Success
At the grade eight level, the middle school literature your students study expands their range of knowledge and vocabulary in preparation for their entering high school. Each vocabulary list prepared for the stories, plays, and poems they read is designed to stretch their vocabulary and comprehension. This helps to widen the students' world view and gives them new words to express their knowledge. Through interactive 8th grade vocabulary activities such as online games and vocabulary worksheets, students become familiar with the new words and gradually expand the range of their future reading.
Spelling is an integral part to continue to acquire vocabulary. Easily incorporate spelling into your reading instruction by importing your word lists or pairing a ready-made eight grade spelling word list with over 35 learning games and activities.
Eighth Grade Short Stories, Novels, and Poetry
Using VocabularySpellingCity's literature-linked vocabulary lists, you can choose literary works that will meet your 8th grade reading goals. You can teach your students the famous Henry Wadsworth Longfellow poem, "Paul Revere's Ride." Or introduce them to some classic American literature by teaching Adventures of Tom Sawyer, by Mark Twain. In the realm of important non-fiction, you might choose "Preamble and First Amendment to the United States Constitution."
You can also import the prepared word lists into your account, and from there modify or expand them. You may also find vocabulary to create your own words and sentences to use with your class. If you download and print the grade 8 worksheets, students can even work on learning the words when they aren't online. You can then administer online quizzes and track your students' progress. As they encounter this vocabulary in the context of their middle school reading assignments, they'll now know how to use and understand it, and their comprehension of the literary works is enhanced.
Common Core State Standards for Literature and Language
Among the VocabularySpellingCity word lists, you will find middle school reading, non-fiction, and poetry selections from the Common Core State Standards (CCSS) literature list. Using a vocabulary word list in conjunction with the study of these literary works, students may more readily attain the CCSS standards, both for 8th grade literature and for vocabulary acquisition. For example, reading literature standard RL.8.4. requires that students can "Determine the meaning of words and phrases as they are used in a text, including figurative and connotative meanings; analyze the impact of specific word choices on meaning and tone, including analogies or allusions to other texts." If students have explored vocabulary through word games, worksheets, and other vocabulary activities, they will have learned both the meaning and spelling of key words, and will also have learned how to use them in context. This will better prepare the students to meet this standard.
VocabularySpellingCity's interactive online vocabulary games, printable worksheets, and other activities are designed to aid in the study of 8th grade literature. As students play the reading games for 8th grade and learn the words, they expand their vocabulary and increase their reading comprehension. This prepares them for high school literature, for eventual standardized tests, and most of all, for the enjoyment of reading well into the future.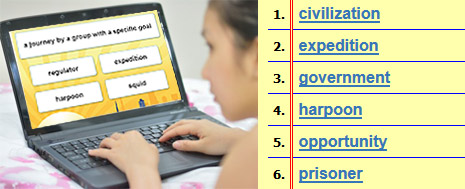 The following games are recommended for 8th Grade Literature Vocabulary Lists.