Using VocabularySpellingCity
For Personalized Learning, This Teacher Pairs Vocabulary Textbooks with VocabularySpellingCity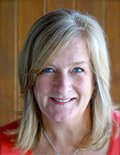 Mary Mroczenski
Cushing Elementary School
Delafield, WI
School demographics:
suburban Kettle Moraine School District
478 students, grades PreK-5th grade
13% are special needs students
11% get free and reduced lunch
Most students go on to four-year colleges
In what grade level does your school use VocabularySpellingCity?
We use it in grades 1-5. I really liked using it with my students as we looped together from grade 2 to grade 3.
How did you start using VocabularySpellingCity?
Our district began using the Words Their Way® series by Pearson Education, and the spelling committee suggested supplementing our textbooks with VocabularySpellingCity. I focus on personalized learning. My principal purchased the Premium license for me two years ago. We are currently looking into purchasing more Premium licenses.
Which devices do you use?
My classroom has 11 iPads and many students bring their own devices. We also use Chromebooks, tablets, desktop computers, laptops, whiteboards, Promethean boards, and paper sorts from traditional textbooks. (VocabularySpellingCity works across multiple devices.)
How do you use VocabularySpellingCity in the classroom?
I use VocabularySpellingCity in several ways: as a pre-teaching tool; for students' personalized learning choices to interact with their spelling patterns; to test students; and to communicate with support teachers and parents. Prior to beginning a new word sort, I assign the "Teach Me More" activity as homework.
When word work groups gather to have a mini-lesson on their new sort, they have already learned about the spelling pattern and words from VocabularySpellingCity. This allows us to be more engaged in our word work from the start. Students then choose whatever games and activities they want for daily work and a homework activity.
Students are welcome to take the pre-test whenever they feel they are ready. After that, they can decide if they are taking the test early or waiting until Friday in class to take the final test on VocabularySpellingCity.
A feature I really like is being able to personalize the sentences in the sorts. Students really enjoy this.
What do your students say about learning with VocabularySpellingCity?
Students really like the games. They like playing them together on the Promethean Board during indoor recess or as their personalized learning choice. Most students and many parents prefer the games over the traditional textbook exercises. Students like taking the test on VocabularySpellingCity instead of using paper and pencil. Some students say this has helped them with their keyboarding skills.
What have been the key benefits for your students in using VocabularySpellingCity?
I love the organization VocabularySpellingCity provides me. VocabularySpellingCity is a great way for me to communicate student progress with parents and support teachers. I have a diverse group of learners and collaborate with SWD (Students with Disabilities) and Talent Development teachers. VocabularySpellingCity makes sharing student work and progress much easier.