Beginning Spelling Curriculum
VocabularySpellingCity's Beginning Spelling Curriculums provide educators and parents of beginning learners with sequential curriculums for teaching sound-symbol correspondences. They have been developed to help young students achieve spelling success by systematically building strong foundational skills. You can choose from a grade-specific online spelling programs, or consecutive lessons to build the best spelling curriculum for your classroom's needs.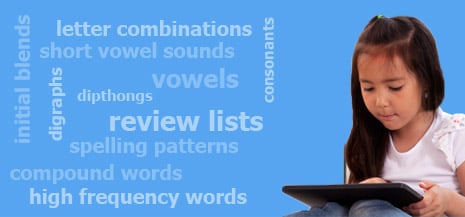 K-3 Grade-Specific Beginning Spelling Curriculum
This is among the best Spelling Curriculum options that provide grade-specific spelling word lists aligned with Irene Fountas' and Gay Su Pinnell's K-3 spelling continuum. These lists guide teachers in the spelling patterns students need to know in order to read and spell words quicker and easier. The spelling pattern sequence was derived from The Continuum of Literacy Learning: Grades PreK-8 (Fountas and Pinnell, Heinemann, 2011).
Each week in this elementary spelling program focuses on a spelling pattern in a grade level progression.
Grades K-2 incorporate high-frequency word lists. These are words that appear often in text, and can help students understand and spell other words. Children need to be able to read and write these words automatically in order to comprehend and share concepts and ideas.
K-2 Classic Beginning Spelling Programs
This Beginning Spelling Curriculum is created for learners in kindergarten through grade 2, and can also be used as an intervention for struggling spellers regardless of age or grade level.
The curriculum for spelling is broken up into units of five weeks each:
Each of the first three weeks focuses on a regular spelling pattern.
The fourth week focuses on words that are most frequently used in reading and writing. Many of these high frequency words have irregular spelling patterns.
The fifth week is a review of the previous four weeks.