3rd Grade Vocabulary and Spelling Word Lists
Vocabulary becomes most important in the 3rd grade, which marks the transition from primary elementary grades (K-2) into intermediate elementary grades (3-5).
In third grade, students are expected to:
Increase word usage and knowledge.
Discuss books, articles, and short stories.
Analyze and clarify language.
By the end of the year, third graders should demonstrate an understanding of text and word meaning, integrate knowledge and ideas, and read and comprehend literature.
With VocabularySpellingCity, meet third grade English Language Arts standards all while integrating vocabulary instruction across content areas. Get the tools to develop word study lessons with more complex vocabulary that will challenge students to excel.
Why It Works
We make implementing personalized and differentiated instruction easy.
Our research-based, classroom-tested learning program is proven to increase vocabulary retention scores by 43% and increase reading comprehension for ELL students by 46.5%. This game-based learning program provides the repeated spaced practice, multiple exposures, and multiple modalities needed to transfer words into long-term memory.
Import ready-made third grade word lists or create a list and assign engaging, interactive learning games and activities.
Some of the features teachers love:
Personalized practice & multiple word exposures
Immediate feedback & self testing
Access to word lists for every subject & grade level
Word lists aligned to third grade curriculum & standards
Review lists based on students' progress
Vocabulary practice in & outside the classroom
Third Grade Vocabulary Instruction
In third grade, students should have command of grade level sight words, be able to read and comprehend informational text with domain-specific vocabulary, and use context to determine the correct meaning of homonyms (multiple-meaning words).
Successful third grade vocabulary instruction involves direct instruction to expand word knowledge and comprehension as well as independent word study to motivate and enhance learning.
Our research-based program is modeled to help students develop deeper understanding of words through gameplay. Import pre-made third grade vocabulary and spelling lists, or create third grade spelling lists. Choose from third grade spelling lists, which include Dolch and Fry words, or third grade content-specific vocabulary word lists in the subjects of reading, math, science, and social studies. Access additional word lists to accompany reading programs and informational text.
Third Grade Spelling Lists
This is your one-stop shop for a number of third grade spelling lists for the classroom.
Pair third grade spelling lists with over 40 learning games and activities, or choose from the available third grade vocabulary printable worksheets. Reinforce foundational skills, like phonics and word recognition, challenge students with word meaning, and improve reading comprehension.
3rd Grade Evan-Moor Spelling Lists
Building Spelling Skills – Week 1 List
said, ask, stand, catch, eight, afraid, away, always, playing, waved, takes, than, great, they, prey
Building Spelling Skills – Week 2 List
next, left, help, please, believe, many, very, been, seen, she, between, three, easy, sea, leave
Building Spelling Skills – Week 3 List
pitch, drink, swim, life, while, I, my, light, buy, eye, which, find, why, kind, try
3rd Grade Academic Vocabulary Spelling Lists
Academic Vocabulary List 1
adventure, characterization, diagram, expression, generalization, imperative, mystery, tall tale, overgeneralize
Academic Vocabulary List 2
cinquain, euphemism, haiku, homonym, limerick, lyric, plural, tone, tense, scene
Academic Vocabulary List 3
paraphrase, rewrite, root, usage, verify, claim, prose, perform, repetition, pitch
3rd Grade Spelling Lists
Dolch Sight Spelling List 1
about, better, bring, carry, clean, cut, done, draw, drink, eight
Dolch Sight Spelling List 2
fall, far, full, got, grow, hold, hot, hurt, if, keep
Dolch Sight Spelling List 3
fall, far, full, got, grow, hold, hot, hurt, if, keep
3rd Grade Literature, Math, Science, & Social Studies Spelling Lists
Charlotte's Web Spelling List
mercy, secure, triumph, slop, aloft, gigantic, litter, radiant, snout, runt
Measurement & Data – Length Spelling List
temperature, area, meter, kilometer, height, width, perimeter, mile, length, centimeter
Matter Spelling List
condensation, melt, phase changes, boil, evaporation, heating, chemical change, change of state, physical change, cooling
Community Spelling List
job, urban, community, suburb, population, home, rural, law, citizen, school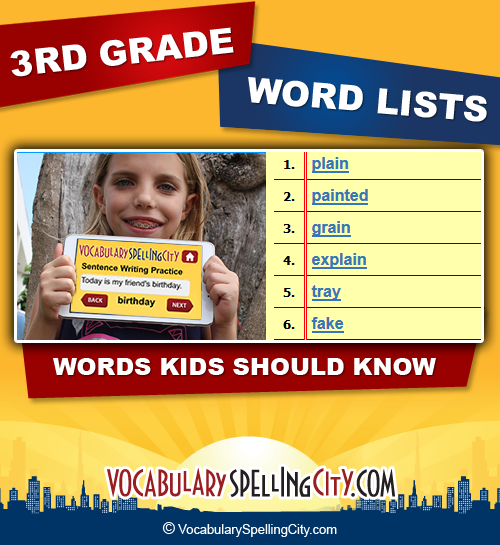 Select a link below to view available 3rd grade word lists:
THIRD GRADE READING PROGRAMS
Import third grade word lists for spelling, high frequency words, or vocabulary for each unit as organized in popular reading programs.

THIRD GRADE SPELLING
Import third grade high-frequency word lists, as well as spelling word lists aligned with Irene Fountas' and Gay Su Pinnell's K-3 spelling continuum.

THIRD GRADE VOCABULARY
Import third grade vocabulary word lists.

THIRD GRADE – OTHER SUBJECTS
Import third grade content-specific vocabulary lists.
The following games are among the most popular and recommended for 3rd graders.