5th Grade Vocabulary and Spelling Word Lists
Fifth grade teachers can find hundreds of free vocabulary and spelling word lists on VocabularySpellingCity's website. Word lists can be paired with engaging, interactive games to practice fifth grade English language arts concepts. In addition to online learning games, VocabularySpellingCity offers printable worksheets on topics including hyperbole, personification, and metaphors to help make planning fifth grade vocabulary lessons easy.
Fifth grade-level word lists support reading and literacy programs like Journeys and Wonders. Teachers can use lists to supplement fifth grade language arts lesson plans. VocabuarlySpellingCity can also administer and assess spelling tests and vocabulary tests. Fifth grade teachers can create their own lists to accommodate more advanced spelling patterns that include affixes and multisyllabic words, as well as remedial word lists that include high frequency words and commonly misspelled words.
In addition, VocabularySpellingCity provides several 5th grade vocabulary lists. Lists include content specific vocabulary, like fifth grade math, fifth grade science, fifth grade social studies, and fifth grade literature. Fifth grade literature lists include exemplar texts suggested in ELA standards. Here, teachers will find vocabulary words from popular novels, such as Louis Sachar's Holes, that are perfect to use for literature circles. VocabularySpellingCity helps with writing lesson plans that include vocabulary in all content areas.
Fifth grade teachers can also import vocabulary with figurative language word lists containing similes and metaphors. Teachers can use VocabularySpellingCity to assign figurative language writing activities that ask students to use similes, metaphors and personification.
Fifth Grade Vocabulary Instruction
During fifth grade, students refine their literacy skills in preparation for middle school. Fifth grade teachers strive to create lessons and activities to ensure students develop a deeper understanding of literature and informational text. VocabularySpellingCity helps teachers by providing countless word lists to use during literacy and content area instruction.
Fifth grade students should be able to master grade level phonics. Students are expected to be familiar with derivational beginnings and endings. List can be paired with learning exercises so students can further explore spelling patterns as well as the relationship between root words and affixes. Students can practice spelling these words through activities like WordFind and Spelling TestMe.
In fifth grade, students will be exposed to a variety of literary genres, including fiction and poetry. VocabularySpellingCity has compiled lists that encompass all genres. The fifth grade literature word lists include vocabulary found in poetry, like Robert Frost's "Dust of Snow," as well as in novels, like Frances Hodgson Burnett's The Secret Garden. Fifth grade teachers can use word lists as supplemental tools during poetry studies or novel discussions. Students can develop further understanding of vocabulary words through learning games like Word Study or Word-O-Rama.
Fifth grade students are also expected to read non-fiction text. VocabularySpellingCity has informational text word lists and content area lists to help students build domain-specific vocabulary. Fifth grade social studies word lists include key terms from many American history topics like the New England Settlements and the American Civil War. Teachers can use games to reinforce both vocabulary and social studies instruction. Games like MatchIt Sentences and WhichWord? Definitions are suitable learning activities to practice content specific vocabulary.
Fifth grade students should be able to determine the meaning of words in text, including figurative language like metaphors and similes. VocabularySpellingCity provides leveled lists to supplement figurative language lessons. The metaphor and similes lists are composed of words that appear in common metaphors or similes. The FlashCards activity gives examples of how the word is used in a metaphor or simile. Additionally, fifth grade teachers can assign students a metaphor or simile writing exercise by using the Paragraph Writing Practice activity. Fifth grade students can write a narrative and include a metaphor or simile in their writing. VocabularySpellingCity also offers free metaphor and simile printables to use as practice.
Fifth grade educational standards that are supported by VocabularySpellingCity.
Choose your educational standard. Then choose grade 5.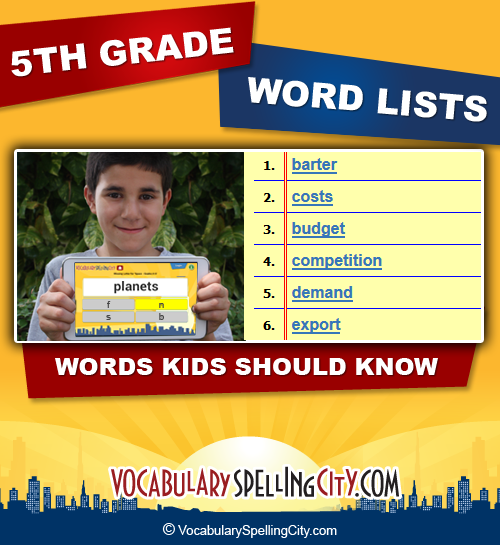 Select a link below to view available 5th grade word lists:
FIFTH GRADE READING PROGRAMS
Import fifth grade word lists for spelling, high frequency words, or vocabulary for each unit as organized in popular reading programs.

FIFTH GRADE SPELLING
Import fifth grade spelling word lists.

FIFTH GRADE VOCABULARY
Import fifth grade vocabulary word lists, such as figurative language concepts.
[sc_include_table id="4464″]

FIFTH GRADE – OTHER SUBJECTS
Import fifth grade content-specific vocabulary lists.
The following games are among the most popular and recommended for 5th graders.