5th Grade Vocabulary and Spelling Word Lists
5th Grade Sample List
Click 'Continue' to play with this list or enter your own
What Words Go On 5th Grade Spelling Lists
During fifth grade, students refine their literacy skills in preparation for middle school.
In fifth grade, students are expected to:
Increase word usage and knowledge.
Discuss books, articles, and short stories.
Analyze and clarify language.
By the end of the year, fifth graders should determine the meaning of words in text, including figurative language, be familiar with derivational beginnings and endings, and read and comprehend literature, including stories, dramas, and poetry.
Must know fifth grade spelling words include similes such as BLIND, GLARE, LATE, OBSTINATE, SPREAD, and WHISTLE. Our fifth grade spelling lists include other academic vocabulary, too, and are complemented by fun, engaging word study activities for 5th graders.
With VocabularySpellingCity, meet fifth grade English Language Arts standards all while integrating vocabulary instruction across content areas. Get the tools to develop fun 5th grade spelling lessons with more mature and complex vocabulary that will challenge your students to excel.
Why It Works
We make implementing personalized and differentiated instruction easy.
Our research-based, classroom-tested learning program is proven to increase vocabulary retention scores by 43% and increase reading comprehension for ELL students by 46.5%. This classroom-tested, game-based learning program provides the repeated spaced practice, multiple exposures, and multiple modalities needed to transfer words into long-term memory. Our engaging spelling games for 5th graders are fun, educational, and make students want to practice and learn!
Import ready-made fifth grade word lists or create your own list and assign engaging, interactive learning games and activities
Some of the features teachers love:
Personalized practice & multiple word exposures
Immediate feedback & self testing
Access to word lists for every subject & grade level
Word lists aligned to fifth grade curriculum & educational standards
Review lists based on students' progress
Vocabulary practice in & outside the classroom
5th Grade Spelling Words
Successful fifth grade vocabulary instruction involves direct instruction to expand word knowledge and text comprehension as well as independent word-play to motivate and enhance learning.
In fifth grade, students should have command of 5th grade sight word lists, read and comprehend informational text with domain-specific vocabulary, and use context to determine the correct meaning of homonyms (multiple-meaning words) and figurative language, like metaphors, similes, and idioms.
Our research-based program is modeled to help students develop a deeper understanding of words through gameplay. Import pre-made fifth grade vocabulary lists, or create your own fifth grade spelling lists. Choose from fifth grade spelling lists, that include Dolch and Fry words, or fifth grade content-specific vocabulary word lists in the subjects areas of
reading, math, science, and social studies. Access additional other available word lists to accompany reading programs, like Journeys, and informational text.
5th Grade Spelling Lists
Pair your fifth grade spelling word lists with over 40 learning games and activities, or choose from the available fifth grade vocabulary printable worksheets. Reinforce foundational skills, like phonics and word recognition, challenge your students with word meaning, and improve reading comprehension. Common words in here can be found on fifth grade spelling bee words lists as well as lists of 5th grade sight words. Our pre-made sets of spelling words are fantastic 5th grade word wall lists to create a fun, visual activity for students.
5th Grade Evan-Moor Spelling Lists
rough
grudge
stunt
thumb
once
another
does
trouble
cousin
began
oxygen
copy
very
until
umpire
sudden
which
city
afraid
explain
payment
sleigh
laid
raise
straight
freight
height
they
favorite
April
able
radio
station
relation
daybreak
trace
fifteen
referee
eager
easily
ready
please
ecology
maybe
been
only
universe
future
communicate
beautiful
unusual
cute
cube
fuel
5th Grade Academic Vocabulary Spelling Lists
adventure
cinquain
proverb
trait
stress
salutation
prose
lyric
limerick
haiku
characterization
context
drama
entertain
euphemism
imperative
interrogative
pamphlet
repetition
source
symbolism
usage
variable
claim
schedule
root
pitch
mystery
diagram
imperative
5th Grade Spelling Lists
earthquake
countdown
candlestick
barefoot
bathrobe
classroom
fingernail
roommate
dashboard
overdue
breakfast
shipwreck
tombstone
wildlife
guardrail
suitcase
surfboard
tiptoe
lighthouse
chairperson
5th Grade Literature, Math, Science, & Social Studies Spelling Lists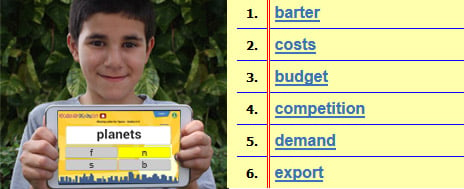 Select a link below to view available 5th grade word lists:
FIFTH GRADE READING PROGRAMS
Import fifth grade word lists for spelling, high frequency/sight words, or vocabulary for each unit as organized in popular reading programs.
[sc_include_table id="4464″]

[sc_include_table id="4464″]

FIFTH GRADE SPELLING
Import fifth grade spelling word lists.

FIFTH GRADE VOCABULARY
Import fifth grade vocabulary word lists, such as figurative language concepts.
[sc_include_table id="4464″]

FIFTH GRADE – OTHER SUBJECTS
Import fifth grade content-specific vocabulary lists.
The following games are among the most popular and recommended for 5th graders.