2nd Grade Vocabulary and Spelling Word Lists
VocabularySpellingCity offers hundreds of free second grade spelling and vocabulary lists that correlate with 2nd grade state standards. Second grade teachers have the option of importing from a wide variety of word lists and assigning interactive games and activities to students. Teachers can also access supplemental literacy tools, such as free handwriting printables, via VocabularySpellingCity.
Second grade spelling word lists include Dolch and Fry sight word lists and word structure lists (compound words). Second grade students can build sight word fluency and phonics mastery through the use of VocabularySpellingCity's interactive online games. Second grade games feature both audio and visual elements, an effective learning tool for all maturing readers and writers, specifically English Language Learners (ELLs).
VocabularySpellingCity supports teachers by providing second grade vocabulary lists. Vocabulary lists include antonyms and synonyms; homophones and homonyms (multiple meaning words); and content-specific lists, such as second grade math and second grade science. Other available vocabulary word lists include second grade literature word lists, from books like Miss Nelson is Missing, and second grade informational text word lists, such as Gail Gibbons' From Seed to Plant.
Second Grade Vocabulary Instruction
Second grade curriculum pushes students to become more experienced readers through exposure to writing by mature language user in complex text. As a result, 2nd grade teachers are responsible for helping to build students' knowledge of spelling and vocabulary words.
In second grade spelling, students should be well on their way to mastering sight words and basic phonics. Second grade students are ready for the next level of sight words and more complicated phonetic patterns. VocabularySpellingCity has compiled second grade Dolch and Fry word sight word lists to use during word study and phonics instruction. Sight word lists can be paired with several of VocabularySpellingCity's games, such as Word Unscramble or Splat-N-Spell, to build sight word fluency. Games such as Initial Sound Speller are suitable for phonics practice.
Second grade students should also begin to learn and understand vocabulary including common prefixes and suffixes; synonyms and antonyms; and sound-alike words (homophones and homonyms). VocabularySpellingCity provides second grade vocabulary lists to cover these key concepts. Second grade students can practice pair the lists with games like MatchIt Definitions for vocabulary practice and retention.
Second grade educational standards that are supported by VocabularySpellingCity.
Choose your educational standard. Then choose grade 2.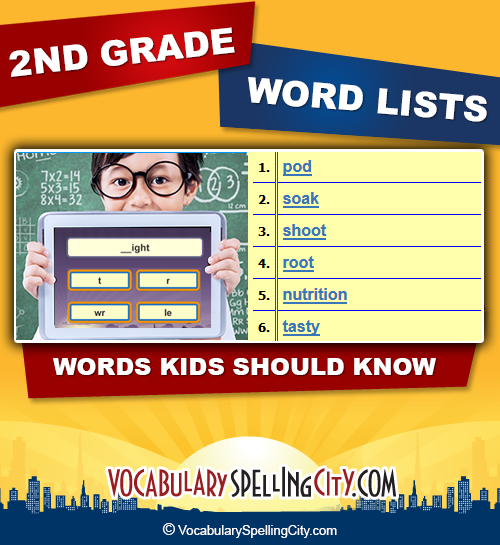 Select a link below to view available 2nd grade word lists:
SECOND GRADE READING PROGRAMS
Import second grade word lists for spelling, high frequency words, or vocabulary for each unit as organized in popular reading programs.

SECOND GRADE SPELLING
Import second grade high-frequency word lists, as well as spelling word lists aligned with Irene Fountas' and Gay Su Pinnell's K-3 spelling continuum.

SECOND GRADE VOCABULARY
Import second grade vocabulary word lists.

SECOND GRADE – OTHER SUBJECTS
Import second grade content-specific vocabulary lists.
The following games are among the most popular and recommended for 2nd graders.