Teaching Sight Words
Sight words, or high frequency words, are commonly used words which students learn to recognize instantly "by sight" without decoding. Many of these words do not follow a spelling pattern, which can make them difficult to sound out and spell. Teaching sight words to young learners is a necessary step in building a strong educational foundation.
Sight words account for about 75 percent of the words in beginning readers' print materials, so it's important for children to learn the correct spelling. The ability to automatically recognize beginning sight words from relevant lists allows beginning readers to identify many words in a text, and thus be able to concentrate on meaning and comprehension as they read without having to stop and decode every word. The use of sight words in context can greatly affect the meaning of a sentence and, in turn, the story itself. Utilizing sight word writing practice for kids early on helps solidify the foundation.
Teaching Sight Word Lists
Repetition is key to sight word acquisition. Starting in kindergarten, young readers should be given multiple opportunities to read and write each new sight words list item. A variety of methods may be used to reinforce automatic recognition of beginning sight words, including sight word writing practice for kids.
• Repetitive reading of texts featuring targeted sight words.Close
Carefully pronounce the words while pointing to their written forms, or guide students to pronounce the words. When appropriate, underline the words where they appear in simple sentences.
When teaching sight words, it is important to focus on a few new words at a time. With practice, students will be able to identify each word instantly. Did you know VocabularySpellingCity's
FlashCards
game reads each word aloud, and can be customized to include the definition, a sentence, and more? Words can also be printed in a flashcard layout from your Premium Membership account, to easily create paper flashcards to study your current beginning sight words list. This is a fantastic supplement to sight word writing practice for kids.
• Practice spelling sight word vocabulary.Close
Have children write words and read them aloud several times using the
Handwriting Practice
activity, which also allows you to print spelling worksheets for writing practice in several type styles (Print, D'Nealian Manuscript, Cursive, and Sign Language).
Add new words to the wall as they are introduced to your sight word vocabulary lists. Each day, students can chant or cheer the list of high frequency words posted on the wall. Not only will repetitive glancing at the word reinforce it in the child's memory; it also makes words easily accessible when discussing them in class or during independent writing activities.
Many teachers and curricula use the Dolch Word Lists or Fry's Instant Words lists, or a combination of the two when teaching beginning sight words. Here are comparisons of Dolch and Fry high frequency sight word lists.
The top 100 Dolch words (when ranked by frequency) and the Fry 100 list comprise a total of 130 unique words with 70 words appearing on both lists.
All words on the Dolch 100 List appear on the Fry 1,000 Instant Word List.
Only nine words on the Fry 100 List are not on the Dolch List or the Dolch Noun List.
The nine words unique to the Fry 100 List are: each, more, number, other, part, people, than, way, and word.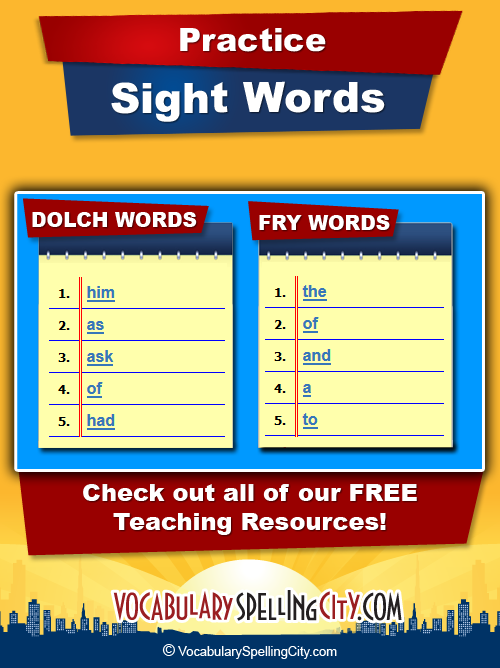 View Common Core State Standards Related to Sight WordsClose
Common Core State Standards Related to Sight Words
CCSS.ELA-Literacy.RF.K.3.c
Read common high frequency words by sight (e.g., the, of, to, you, she, my, is, are, do, does).
CCSS.ELA-Literacy.RF.1.3.g
Recognize and read grade-appropriate irregularly spelled words.
CCSS.ELA-Literacy.RF.2.3.e
Identify words with inconsistent but common spelling-sound correspondences.
CCSS.ELA-Literacy.RF.2.3.f
Recognize and read grade-appropriate irregularly spelled words.
CCSS.ELA-Literacy.RF.3.3.d
Read grade-appropriate irregularly spelled words.