Focus on Student Progress
VocabularySpellingCity Helps Teacher Focus Students on Individual Progress, Not Testing
1st Grade Sample List
Click 'Continue' to play with this list or enter your own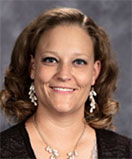 Amber Palmer, School Technology Specialist (STS)
Bennion Elementary
Taylorsville, UT
School demographics:
Suburban Granite School District
600 students, grades K-6
Population becoming more diverse ethnically and socio-economically
Lower transiency rate than nearby schools
How long have you been teaching, and which grades?
18 years total (15 years grades 4-6, 3 years School Technology Specialist K-6).
How long have you used VocabularySpellingCity?
I've been using VocabularySpellingCity nearly as long as it has existed — since 2010 or longer. I believe I heard about it from a colleague. As a school, we have been getting teacher licenses for at least 5 years.
Do you use Premium or the free version?
I used the free version for years, but have been using Premium now for at least 5 years.
In what grade levels do you use VocabularySpellingCity?
Mostly 2-6, and we are hoping to get K-1 more involved now that we are going to have 1:1 Chromebooks.
How did you start using VocabularySpellingCity?
I started using VocabularySpellingCity as a way to provide home practice for students, as well as make lists available to families who might have found themselves needing access. As time went on, I found myself teaching a group of very struggling students. They were discouraged with their spelling difficulties and often "failed" their tests. We started focusing on progress instead. We did a pre-test on Mondays and a post-test on Fridays and looked at improvement. The quick turnaround time on VocabularySpellingCity enabled me to provide immediate feedback for students and focus on what they really needed — a teacher to help them fill in their learning gaps — not a teacher hunched over a pile of papers with a red pen.
Eventually, I started differentiating my lists by creating student groups and list groups, and students started seeing progress and were encouraged by that. I could give 4 or 5 different tests at the same time, because my students would work on an iPad at their own pace to complete their own test. My students would use the activities in small groups while I was working with guided reading groups. I didn't have to plan or grade something extra, and students were engaged and accountable when I couldn't be working directly with them.
I love that the Teach Me feature and Vocabulary are integrated. So many of my students needed auditory and visual information to better learn, and so many of them had been learning words to spell that they didn't even know the meaning of, or how to use them in context. Spelling isn't everyone's forte, but it's necessary to know in life. Engaging practice is the key, and works hand in hand with strong classroom instruction.
How do you use your word lists?
I love being able to store lists and use them from year to year; it's a real time-saver. It's especially time-saving if a list I'm looking for has already been created and shared by someone else. Having all of the Wonders spelling lists readily available has been a very popular feature with the teachers at our school.
What challenges have you faced in teaching spelling, vocabulary, writing, and phonics to individuals and groups of students?
Parents had wanted a way to support at home and teachers had wanted to provide engaging practice, but it was a lot of work to get it all together — which VocabularySpellingCity simplified for me as a teacher. In the past, it was hard to differentiate lists because giving lists and tests and homework on so many different levels was very time-consuming, not to mention giving feedback in a timely fashion. Again, solved by VocabularySpellingCity! It works on so many different platforms that the majority of our parents and students have access without any trouble at all — it makes it so easy for students to practice on the go!
What do students say about learning with VocabularySpellingCity?
The newest student site is easy to use and there are so many activities to choose from, but being able to see which activities are assigned as tiles is really nice. They like knowing right away how they are doing and which words they need to practice more. Getting immediate feedback has been very encouraging.
What have been the key benefits to using VocabularySpellingCity for your students?
VocabularySpellingCity is affordable and very user-friendly. Parents are able to work with their children at home with the guidance of activities set up by the teachers; teachers are able to more easily differentiate for students and provide engaging practice without adding to their workload or taking away time from working with students. Immediate feedback for students (especially for tests) and the Gradebook feature are encouraging and time-saving. Teachers love the ease of the program and students love the variety of activities.
Which devices are you using?
I used iPads before and liked the app a lot, but we are now moving toward 1:1 Chromebooks, so that will be our main platform. We haven't had any problems with Chromebooks at all — in fact, I can't think of the last time VocabularySpellingCity HASN'T worked; it is a very tech-sound solution.
Which students have you found that respond best to using VocabularySpellingCity?
Students like being able to practice at their own level of list without advertising their level to everyone. This is especially socially impactful in upper grades for students who struggle and need the practice, but aren't comfortable with others knowing that their list is different than the others'. Advanced students are able to have custom lists for their levels as well, so we are still seeing growth and progress at the upper end of the spectrum too.