4th Grade Vocabulary and Spelling Word Lists
VocabularySpellingCity aims to help fourth grade teachers by providing hundreds of free fourth grade spelling and vocabulary word lists that can be used in their lesson plans. Word lists can be used to assign fourth grade-level interactive games and activities to students that supplement vocabulary, and word study instruction. Teachers can also access printable worksheets that coincide with pre-made lists, like the Metaphor Practice Worksheet. These free printable worksheets are perfect homework practice for students who do not have access to technology.
Fourth grade spelling and vocabulary word lists are aligned to popular reading series and literacy programs including Journeys and Wonders, making them easy to add into fourth grade lesson plans. Such lists support fourth grade language arts curriculum and can be paired with VocabularySpellingCity's online games and activities to provide literacy practice. There are also vocabulary lists for fourth grade literature studies such as Bud, Not Buddy, Because of Winn Dixie, and Charlie and the Chocolate Factory.
VocabularySpellingCity also offers varied fourth grade lists that support ELA standards. These include lists that support grammar, vocabulary, word choice and writing such as antonyms and synonyms; homophones and homonyms (multiple meaning words); and figurative language. Writing practice activities can be assigned on the VocabularySpellingCity site to further engage fourth grade students in vocabulary study.
In addition, VocabularySpellingCity provides content-specific fourth grade vocabulary lists. Lists include fourth grade math vocabulary, fourth grade science vocabulary, and fourth grade social studies vocabulary. This makes the inclusion of vocabulary lessons and planning easy.
Fourth Grade Vocabulary Instruction
Fourth grade students have an expanding vocabulary, as they are now exposed to a variety of text. Fourth grade teachers are faced with the task of ensuring students fully comprehend new words they encounter. VocabularySpellingCity provides both vocabulary and spelling lists to support fourth grade literacy instruction.
Fourth grade state standards expect students to be able to read and comprehend informational texts, including history/social studies, science, and technical texts. In order to further understand informational text, students must build their vocabulary knowledge. VocabularySpellingCity provides extensive fourth grade content area vocabulary lists in math, science, and social studies.
For example, the fourth grade math lists contain key terms in geometry (angles, polygons), measurement and data (coordinate/unit, length) and other core mathematics concepts. Vocabulary word lists can be paired with games, such as Vocabulary TestMe and Word-O-Rama, to build content area vocabulary, which in turn develops reading comprehension skills.
Fourth grade students should recognize figurative language, including common idioms, simple similes, and metaphors. VocabularySpellingCity provides a ready-made list of words found in popular idioms. The FlashCards activity allows fourth grade students to read and hear the word used in an idiom.The idiom lesson can further be extended by using Paragraph Writing Practice to assign students a writing exercise of effectively using an idiom in their story.
During fourth grade, students should also understand multiple-meaning words. VocabularySpellingCity has created fourth grade multiple meaning (homonym) word lists. When using FlashCards, students will be exposed to the different word definitions. Students can later test their knowledge in games like WhichWord? Definitions and MatchIt Sentences.
Fourth grade educational standards that are supported by VocabularySpellingCity.
Choose your educational standard. Then choose grade 4.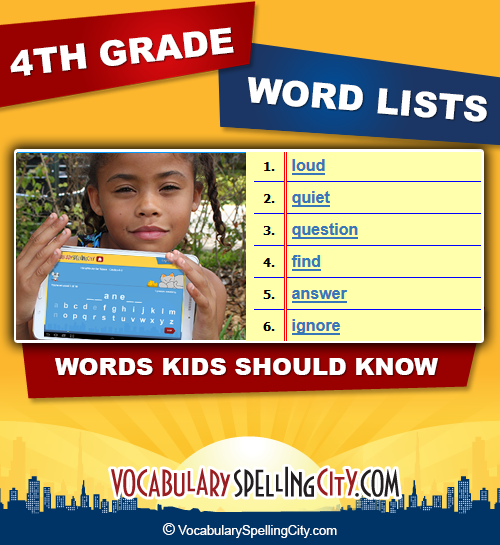 Select a link below to view available 4th grade word lists:
FOURTH GRADE READING PROGRAMS
Import fourth grade word lists for spelling, high frequency words, or vocabulary for each unit as organized in popular reading programs.

FOURTH GRADE SPELLING
Import fourth grade spelling word lists.

FOURTH GRADE VOCABULARY
Import fourth grade vocabulary word lists, such as figurative language concepts.
[sc_include_table id="4464″]

FOURTH GRADE – OTHER SUBJECTS
Import fourth grade content-specific vocabulary lists.
The following games are among the most popular and recommended for 4th graders.