4th Grade Vocabulary and Spelling Word Lists
Vocabulary is an important component in the 4th grade curriculum, as students expand their word knowledge through a variety of text.
By the end of the year, fourth graders should recognize figurative language, integrate knowledge and ideas, and read and comprehend informational text.
In fourth grade, students will:
Increase their word usage and knowledge.
Discuss books, articles, and short stories.
Analyze and clarify language.
With VocabularySpellingCity, meet English Language Arts state standards and teach vocabulary in conjunction with other subjects. Develop word study lessons with more mature and complex vocabulary that challenges your students to excel.
Building 4th Grade Spelling Skills
In fourth grade, students should have command of grade level appropriate sight words, be able to read and comprehend informational text with domain-specific vocabulary, use context to determine the correct meaning of homonyms (multiple-meaning words), and recognize figurative language, including common idioms, simple similes, and metaphors.
VocabularySpellingCity's list of must-know spelling words for fourth graders include Evan-Moor's lists for building spelling skills. Other available fourth grade spelling lists include: foruth grade literature spelling list, fourth grade math spelling list, 4th grade science spelling lists, 4th grade social studies lists.
Research has shown that building spelling skills helps with reading, reading fluency, and reading comprehension. Our fourth grade spelling lists, paired with over 40 learning games and activities, are designed to provide 4th graders the spelling practice they need to build strong spelling skills.
4th Grade Spelling Lists
Pair your fourth grade spelling word lists with over 40 learning games and activities, or choose from the available fourth grade vocabulary printable worksheets. Our fourth grade spelling lists, paired with our learning activities, reinforce foundational spelling skills like phonics and word recognition.
Challenge your students with word meaning, and improve reading comprehension
4th Grade Evan-Moor Spelling Lists
bridge
gravity
hungry
eclipse
secret
applaud
laundry
trouble
attract
twilight
between
describe
snowflake
freedom
slimy
glance
burglar
switch
attach
where
sandwich
change
watch
singer
slippery
spring
gather
these
thread
athlete
worth
thirsty
whisper
whistle
awhile
nowhere
fact
began
clasp
rapid
able
later
space
stranger
grade
display
main
explain
freight
neighbor
weigh
vein
April
ankle
4th Grade Academic Vocabulary Spelling Lists
dialogue
expression
inferences
voice
signature
relate
mood
jargon
formulate
exaggeration
personification
syllabication
subordinate
resolution
onomatopoeia
literature
imagery
hyperbole
idiom
metaphor
discuss
edit
genre
interpret
intonation
myth
progressive
theme
transition
climax
4th Grade Spelling Lists
dishwasher
playground
teammate
yardstick
windshield
fisherman
saltwater
weekend
homesick
mailbox
cardboard
downstairs
fingerprint
haircut
lifeguard
sandpaper
sidewalk
sunlight
thunderstorm
toothpaste
4th Grade Literature, Math, Science, & Social Studies Spelling Lists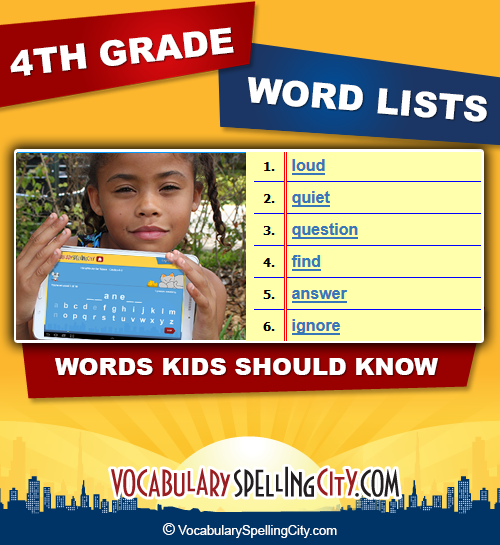 Select a link below to view available 4th grade word lists:
FOURTH GRADE READING PROGRAMS
Import fourth grade word lists for spelling, high frequency words, or vocabulary for each unit as organized in popular reading programs.
[sc_include_table id="4464″]

FOURTH GRADE SPELLING
Import fourth grade spelling word lists.

FOURTH GRADE VOCABULARY
Import fourth grade vocabulary word lists, such as figurative language concepts.
[sc_include_table id="4464″]

FOURTH GRADE – OTHER SUBJECTS
Import fourth grade content-specific vocabulary lists.
The following games are among the most popular and recommended for 4th graders.