Fourth Grade Social Studies
States & Regions
Fourth grade social studies teaches students about the different states and regions in the country, with specific emphasis on their home state. VocabularySpellingCity makes sure your students learn all the social studies vocabulary they need, whether you are teaching them about the cotton and mining industries in the South or the geography and wildlife of the Pacific region. Online social studies games and activities help your students learn each 4th grade social studies unit more easily and thoroughly. Read MoreRead Less
Vocabulary comprehension can be the difference between pass and fail on a test. That is because it is key to conceptual comprehension and therefore to understanding the events depicted by that vocabulary. When fourth grade students know the specific meanings of words, they can more easily relate them to a particular context and in turn better grasp the broader lesson at hand. If students don't understand the words used in a lesson, they are not likely to understand the lesson as a whole. When students know the meanings of their words, their confidence and interest levels increase, leading to academic success. Vocabulary building through fun interactive games keeps students engaged and motivated to keep learning social studies for 4th grade.
These fun online 4th grade social studies activities and games allow students to learn both the context and usage of their social studies vocabulary, as well as the proper spelling of the words. You can supplement your fourth grade social studies curriculum with fourth grade vocabulary games and worksheets, and other fourth grade spelling word lists, to help your students learn and better understand each unit. VocabularySpellingCity works together with parents and teachers to make fourth grade social studies education enjoyable and productive.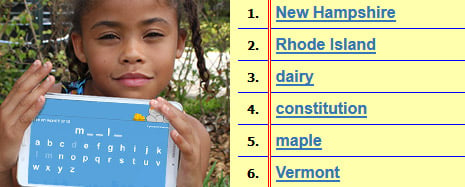 The following games are recommended for 4th Grade Social Studies Vocabulary Lists.

Word-O-Rama provides practice identifying words by their definitions, synonyms, antonyms, or by their context within a sentence.
Play Word-O-Rama with a 4th grade social studies list.

HangMouse is a great way for students to practice their spelling words.
Play HangMouse with a word list covering social studies for 4th grade.