Third Grade Science Vocabulary
Third grade science involves an in-depth study of many diverse fields. Students confront intricate science concepts and complex science terminology. This terminology can be overwhelming unless students make connections between science study and the real-world use of the concepts. A thorough understanding of 3rd grade science vocabulary is essential to a thorough understanding of science. Read MoreRead Less
By using integrated third grade science lesson plans, detailed worksheets, cool games, and comprehensive online testing, students can make these valuable real world connections. Children always learn more quickly, easily, and willingly when information is presented in enjoyable, meaningful, context-rich ways. VocabularySpellingCity has gathered extensive elementary science word lists to promote this exhilarating way of learning. Seven science categories are covered, both at a glance and in depth. Learning to use and understand vocabulary words from these science areas at the third grade level is key for students to advance to fourth grade science and beyond. Continue classroom word study with other ready-made third grade spelling word lists that include third grade math, third grade social studies, and third grade reading.
3rd Grade Science Sample List
Click 'Continue' to play with this list or enter your own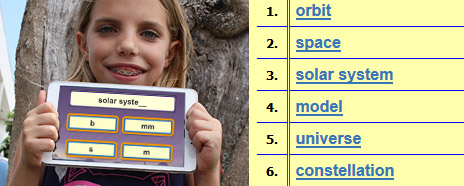 The following games are recommended for 3rd Grade Science Vocabulary Lists.
Final Sound Speller provides practice recognizing sounds/spelling correspondences. Practice of these basic phonics skills prepare students for blending words orally and in writing.
Play Final Sound Speller with one of our lists for a third grade science vocabulary game.