Social Studies Vocabulary Words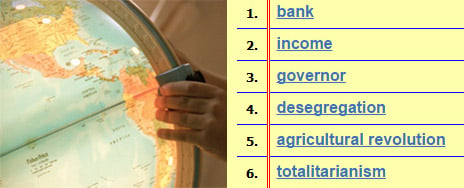 VocabularySpellingCity provides a wide range of social studies vocabulary lists for elementary and middle school students, from grades K through 8, covering geography, sociology, anthropology, humanities, economics, history, and more. Simply select a word list to teach your students spelling, definitions, and applications of key terms in any social studies curriculum. Read MoreRead Less
VocabularySpellingCity can help you implement social studies vocabulary strategies with online quizzes, printable worksheets, flashcards, and interactive games. The vocabulary lists can give students a fundamental understanding of crucial social studies terms. A Premium Membership allows you to assign your students specific activities and track their progress. Most games can easily be converted to social studies vocabulary worksheets for offline pencil and paper practice.
VocabularySpellingCity has numerous ready-made lists for U.S History, U.S. States & Regions, Modern History, Ancient World Cultures, as well as social studies lessons for younger students like The World Around Me, Neighborhood Life, and Community Life. Simply select the social studies unit your students are currently working on and they will be well on their way to knowing their social studies vocabulary and spelling words.
The social studies vocabulary lists for the earlier grades (K-3) are based on broad areas of study to which younger students can readily relate: family, school, neighborhood, and community life. This sets the stage for an understanding of where they belong in a social sense. Beginning in fourth grade, the older students learn about where they stand in a stricter geographical and historical context. The social studies vocabulary lists for fourth through eighth grade cover states and regions, U.S. history, as well as both ancient and modern world geography and history.
VocabularySpellingCity offers a variety of practice games to solidify students' understanding of the vocabulary related to each of the social studies areas and periods they are studying. Crossword puzzles are particularly effective in vocabulary retention. Students can either do VocabularySpellingCity's Crossword activity online or print it for offline practice.
Along with math, reading, and science, social studies is one of the academic subjects tested on many states' standardized tests. From Massachusetts' MCAT and Texas' TAKS to California's CAT, Florida's FSA, and New York's Regents Exam, social studies is an important component of standardized tests. National exams like the Comprehensive Test of Basic Skills (CTBS) and General Equivalency Diploma (GED) also test students' knowledge of social studies. Whether preparing for a classroom social studies quiz or for one of the many state mandated social studies standardized tests, vocabulary comprehension is a key aspect of success.
Social Studies Sample List
Click 'Continue' to play with this list or enter your own