Fifth Grade Social Studies
U.S. History
The 5th grade social studies curriculum takes students from early colonization to modern times, learning about the continental and world wars along the way. VocabularySpellingCity ensures that your students have the necessary social studies vocabulary at their disposal to understand this history. Fifth grade social studies worksheets and vocabulary games go hand in hand with each unit of social studies for 5th graders, so your students thoroughly learn their final elementary school social studies curriculum. Read MoreRead Less
The online social studies games and activities make learning social studies vocabulary a lot of fun. Through these interactive social studies vocabulary games, your students learn context and meaning, as well as the correct spelling of their social studies words. VocabularySpellingCity helps your students learn more readily with many fifth grade spelling lists to choose from, and hopes to make teaching social studies vocabulary a much easier and more productive task for you.
Vocabulary comprehension can be the difference between pass and fail on a test. Perhaps more importantly, it can be the difference between building interest and feeling defeated. Naturally, teachers and parents alike want their students to be interested and motivated in order to ensure success. VocabularySpellingCity's interactive games and fun learning activities keep 5th grade social studies students engaged while building their vocabulary, which is a key part of understanding the concepts and events to which the vocabulary refers. When 5th grade students know the specific meanings of words, they can relate them to a particular context and thereby grasp the broader lesson at hand.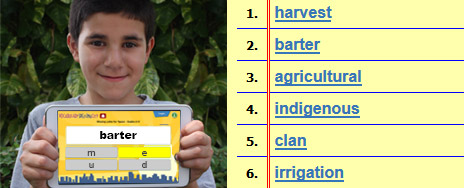 The following games are recommended for 5th Grade Social Studies Vocabulary Lists.


Crossword allows students to fill in a crossword puzzle using words on their list.
Play Crossword to supplement practicing social studies for 5th graders.