Vocabulary Study
VocabularySpellingCity Has Tools to Unleash Your Students' Word Power
Research consistently shows the power of vocabulary in determining academic destiny. Students with weak vocabularies tend to decline academically, while students with stronger vocabularies tend to learn faster. With effective direct vocabulary instruction and fun word games as practice, vocabulary becomes your students' superpower – not their kryptonite.
"Since we have a large ESOL population, our school-wide focus is on increasing vocabulary development. VocabularySpellingCity has helped support this initiative with its specific activities."
Shawn Allen, Principal, Lloyd Estates Elementary Oakland Park, FL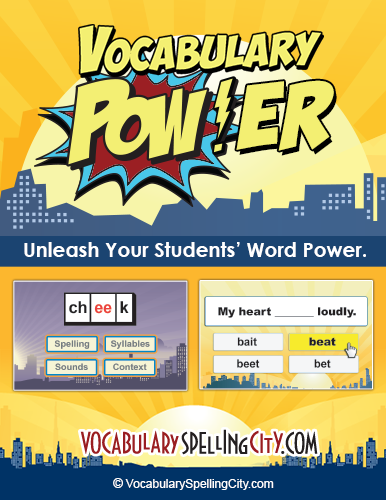 Effective vocabulary instruction, more than just teaching the definitions of words, requires:
Showing how words are formed.
Showing how words are used in context.
Educational research has proven:
This explicit, direct approach has a positive effect on a student's learning potential.
Students need between 12 and 15 exposures to a new word in order for it to move into long-term memory.
How can teachers accommodate repeated review with the challenges of a classroom schedule?
This is where VocabularySpellingCity comes to the rescue! After you explicitly teach the vocabulary words, students use our site to hear, say, read, write, and play with their words through engaging learning activities.
"VocabularySpellingCity is amazing. It allows me to assign multiple vocabulary lists every week. With differentiated lists, my students' needs are better addressed. I love that VocabularySpellingCity allows students the individual time they need for tests, gives the students immediate feedback, grades the tests, and keeps all the data organized and logged for me."
– E. Glass, Teacher, Loma Vista Elementary School, Salinas, CA
Research-Based for Effectiveness and Better Outcomes in Student Achievement
Educational researchers Robert Marzano and Dr. Joe Lockavitch say learning vocabulary is critical to reading comprehension, writing, and other literacy and communication skills.
| Research Finding | VocabularySpellingCity Function |
| --- | --- |
| Students should generate their own explanation or description of a word. | Using Sentence Writing Practice, each student can be asked to either write a sentence using the word or to write descriptions. |
| Exposure to oral language improves vocabulary growth. | Most exercises and games include both saying the word by itself and within a context-rich sentence. |
| Repetition improves vocabulary acquisition. | The 35+ activities and games provide repetitive encounters with a word without being tedious. |
| Playing word games reinforces learning and memorization. | A wide variety of audio and visual games and activities, with animation and graphics, are a fun way to motivate and challenge students. |
Marzano, co-author of Building Academic Vocabulary: Teacher's Manual, recommends allowing students to generate their own explanation or description of a word, rather than copying the teacher's description, for stronger comprehension and retention. He adds that playing games with words is a "brain-compatible strategy" for reinforcing learning.
"Games seem to engage students at a high level and have a powerful effect on students' recall of the terms," Marzano says. "Games not only add fun to the teaching and learning process, but also provide an opportunity to review the terms in a non-threatening way. After the class has played a vocabulary game, the teacher should invite students to identify difficult terms and go over the crucial aspects of those terms in a whole-class discussion."
According to Lockavitch, author of Failure Free Reading:
Exposure to oral language improves vocabulary growth;
Repetition improves vocabulary acquisition;
Computer-assisted multimedia programs impact reading comprehension and standardized test scores.
Lockavitch and other educational researchers say that providing multiple engagements with new words over an extended period is necessary to commit them to long-term memory. Word exposures should be done in ways that engage different senses: The student should read the word, write the word, hear the word, and say the word.
VocabularySpellingCity Premium Membership offers a variety of vocabulary activities. Try a few of these examples.