Spelling TeachMe
The standards correlation for this activity is coming soon!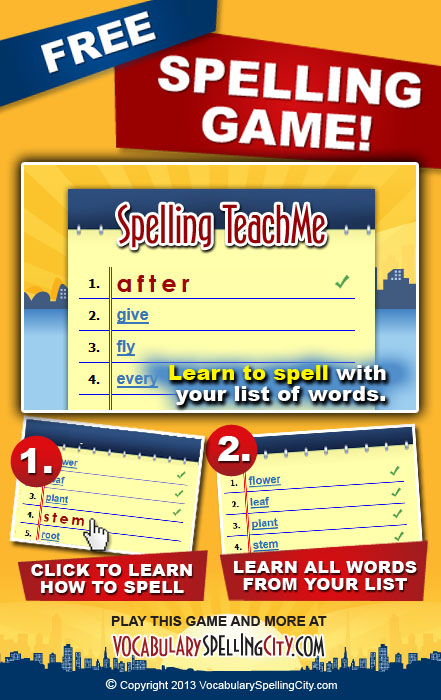 Use Spelling TeachMe to help students know and memorize spelling and vocabulary words.
Try Spelling TeachMe
with a sample word list!
Create your own word lists and more with Premium Membership
More Learning Activities & Games
Spelling TeachMe helps students learn the spelling of a word. It stimulates two learning modalities: visual and auditory. If you are a student, Spelling TeachMe is a great way to teach yourself spelling and this exercise also helps parents understand how to teach spelling to children to help them learn their words and practice for weekly spelling tests.
Spelling TeachMe Instructions: To begin Spelling TeachMe, click on one of the blue, underlined words on the notepad. When a word is clicked, the word will be read aloud, spelled letter-by-letter, read in a sentence, then read aloud a second time. To play the "classic" word-by-word Spelling TeachMe, simply choose a list, then click the "TeachMe Word-by-Word" link under the navigation buttons on the yellow notepad. Click on the forward or back arrows to go to the next or previous word. Click on the yellow box to have the word repeated. To move to a specific word on your list, click the drop-down box to choose another word. You can use Spelling TeachMe to practice words from your own lists, the sample lists above, or any of the existing lists available on our site!