Student Lists
Student Lists allow students to create and save their own word lists.
This offers extra practice for students and more accountability.
Saves teachers time, especially in cases where each student has their own personal word list.
Student-Created Lists may be used in any game or activity and the students' activity is recorded.
Teachers can view student-created lists from their List Management page.
There are two types of Student Lists:
Student-Specific Lists: Lists assigned to the student using the Student List Visibility option. Student List Visibility allows a teacher or parent to limit which students have access to any given list. This can be controlled through List Management within the Visibility column, or when editing a list in Word Verification by clicking Visibility.
Student-Created Lists: Lists that are entered and saved by individual students. Teachers can import Student-Created Lists into their own accounts or delete them.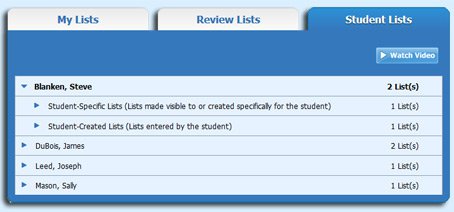 Common FAQs
Our spelling program uses individual lists for each student. Do I need to type in 20 lists each week?
No. Thanks to our Student-Created Lists feature, students of Premium Members can enter and save their own word lists. These lists can be used to complete all of our games and activities, and student activity and test scores will be recorded for the teacher.
How do I allow my students to save their own lists?
To activate this feature, log into your Premium account and select List Management from your navigation bar. Click Allow Students to Create Lists and select the top option and then the Done button.