License Sharing
Student licenses can be shared among teachers.
To share licenses (Teacher):
Log into your account.
Select Licenses & Orders in your username drop-down menu.
Select the Grant Premium Access link.
Select Grant Premium Access and enter the username or email address of the teacher* you wish to share with.
*Note: Teachers must already be registered with an account. New teachers must register before licenses can be shared.

To share licenses (Account Administrator):
Log into your account.
Select Account Administration from your admin tools.
Select Manage Teachers next to the school's name. You can share by entering a registered teacher's username or email address. To add multiple teachers, download a sample CSV file to complete and upload to create accounts for teachers. You can also create a new account for an individual teacher without a CSV file.
Note: License sharing privileges are based on one teacher for every 12.5 licenses. Only teachers who purchase a Classroom Premium Membership (25 licenses or more) may share licenses with other teachers.
If you have trouble uploading your CSV file to create new teacher accounts, please contact Support at sales@learninga-z.com or call 800-357-2157 for assistance.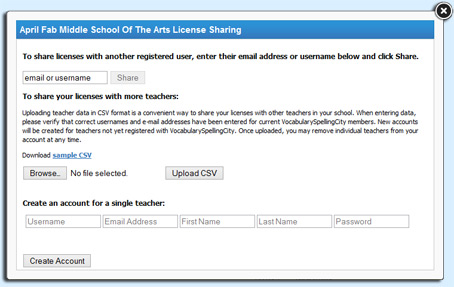 Common FAQs
Why can't I add students?
You may have entered more students than you purchased licenses for or you may be sharing your licenses with another teacher who has used more student licenses than anticipated. To view the amount of available students, select Licenses and Orders in your username drop-down menu.
If I share licenses with another teacher, will she have to log into my account?
No, when you share licenses with another teacher, your accounts will remain separate. She can log into her own account, add her own students, etc.
I do not have 25 students in my class, do I have to purchase 25 students?
Yes, but you are free to share any unused student licenses with one other teacher.
My school purchased Premium Membership and I do not have access. What do I do?
The account holder who purchased Premium Membership for your school is responsible for sharing licenses with other teachers. To activate Premium Membership on your account, you will need to contact the account holder, providing your username or email address associated with your VocabularySpellingCity account, and request that he/she share licenses with you.