Printable Worksheets
Printable worksheets are available for many of our learning activities and games. This is useful for students of teachers who don't have access to computers at home.
To locate the activities and games that are available as printable worksheets, select a list, then click Play a Game. Once you are on the Learning Activities and Games page, select an activity. If a printable version of the activity is available, a Printable Activity box will appear on the bottom-right of the activity card. Click on this, and a PDF will open in a new window.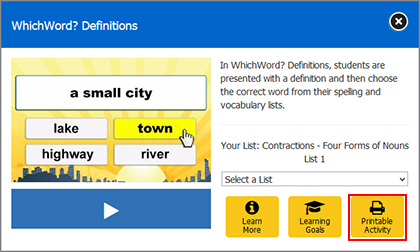 Common FAQs
Why does my worksheet print on two sheets?
At this time, there is not a way to request one-page worksheets. Print settings are determined the length of the word list, the content, and the activity.
Why am I unable to see the worksheet when I click on the Printable Activity box?
Chances are, the printable worksheet has opened in a new browser window. If you still cannot see the worksheet, or if the window is blank, you may need to update Adobe Acrobat Reader. You can download the latest version by clicking here.