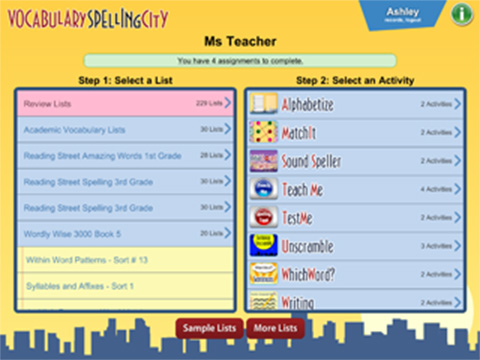 AVAILABILITY CHART
Activity name
Aim 2 Spell
Alphabetize
Alphabetize with Jojo
Audio Word Match
Crossword
Final Sound Speller
FlashCards
HangMouse
Initial Sound Speller
LetterFall
MatchIt Definitions
MatchIt Sentences
Missing Letter
Paragraph Writing Practice
Parts Of Speech
Practice Spelling Test
Practice Vocabulary Test
Read-A-Word
Sentence Unscramble
Sentence Writing Practice
SillyBulls
SpeedySpeller
Spelling TeachMe
Spelling TestMe
Splat-N-Spell
TeachMe More
Test-N-Teach
Vocabulary TestMe
Which Final Sound
Which Initial Sound
WhichWord? Definitions
WhichWord? Sentences
Word Search
Word Unscramble
Word Videos
Word-O-Pillar
Word-O-Rama
WordFind
VocabularySpellingCity - At School, At Home and On the Go!
VocabularySpellingCity is game-based learning tool with a school-home connection! Students of VocabularySpellingCity Premium Members can log into their accounts and access their teachers' lists and assignments from virtually any device - desktop computers, laptop/notebook computers, tablets, iPads, iPhones, and Android phones - at school, at home and on the go!
Oct 23, 2015 iOS Update
Version iOS 1.9.13 of the SpellingCity app includes an update for a keyboard orientation error experienced by users of iOS9.