How to Get Started
Enter your words and take a test from our homepage. You also have access to Teaching Resources such as math vocabulary, compound words, and Dolch-sight word lists.
Upgrade to Premium Membership for the following additional benefits:
Individual student logins
Student progress tracking
Premium games and activities
Vocabulary content and writing practice activities
Assignments
Student and list grouping
Review lists
No commercial ads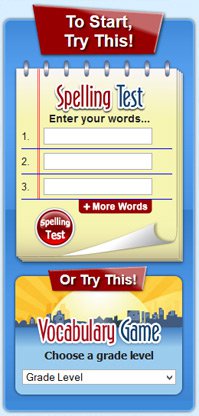 Common FAQs
I am new to the site. Where do I start?
Register and save your word lists or simply enter words on the notepad on our homepage and click Spelling Test.
Can I save a list from the notepad on the homepage?
No. Only registered users can save lists by creating them through List Management.
Where should my student log in?
Students do not need to log in unless their teacher or parent is a Premium Member and has provided them with a username and password. Free students can enter their words on the notepad or use the Search feature to locate lists or teachers.