Spelling TestMe
The standards correlation for this activity is coming soon!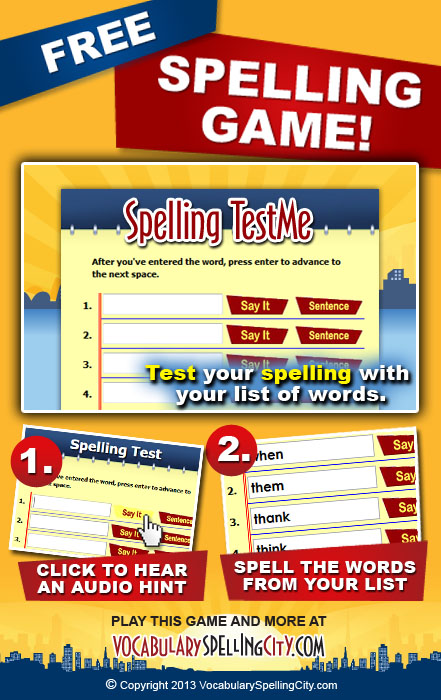 Spelling TestMe provides students with the opportunity to take a traditional spelling test independently and receive immediate feedback.
Try Spelling TestMe
with a sample word list!
Create your own word lists and more with Premium Membership
More Learning Activities & Games
Spelling TestMe Overview: The object of Spelling TestMe is to gauge students' ability to spell words correctly. This activity allows students to take practice and actual spelling tests online - directly on our site! This is a great activity to prepare for weekly spelling tests in school! Logged in students will be asked before the test whether it's a practice test or not (see graphic at right).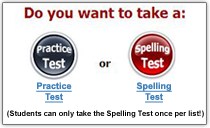 Spelling TestMe Instructions: Following the introduction, click in the blank space following number one. This will begin the test. Each word will be read, followed by a sentence using the word, then the word will be read a second time. Type the spelling word in the blank, then hit Enter or click the next blank to hear the next word. To hear any word repeated, click the blank for that word. When finished, click the Check Me! button to submit the test for automatic grading. You can then review your spelling words, retake the test, or print a report or certificate showing the results! Premium Member teachers can generate printable spelling test reports for their entire class.
VocabularySpellingCity's spelling games are a great way to practice for your weekly spelling quiz or a spelling bee! SpeedySpeller is one of our Premium spelling games that simulates a typing test! See how fast you can type your spelling words without making any errors!