Spelling TestMe
The standards correlation for this activity is coming soon!

Try Spelling TestMe
with a sample word list!
Create your own word lists and more with Premium Membership
Building Literacy
Foundational Skills
Phonics
Fluency
What? Spelling is a foundational skill that is necessary for reading and writing proficiency. More...Less
Spelling instruction begins with phonics and phonemic awareness, two major components in reading instruction. Through spelling, students draw on their knowledge of letter and sound relationships and they can begin to decode and encode words.
When? In kindergarten, students begin to explore letter-sound correspondence and the written English language through inventive spelling. More...Less
Throughout the primary grades, students become familiar with basic spelling patterns, like the CVC (consonant-vowel-consonant) pattern. As students progress into upper elementary grades and middle school, they are exposed to more complex patterns, such as root words and affixes.
How to teach: Spelling TestMe can be used as a pretest to identify which words students need to practice, as a practice test before a graded test, or as a formative assessment.
Play to learn: Spelling TestMe provides students the opportunity to practice, review and assess their spelling. More...Less
Each word is read aloud and presented in context. Students have the opportunity to listen again by clicking on the "Word" and "Sentence" buttons. Before the final submission, students have the option of reviewing their words. When words are submitted, the test is immediately graded. Students receive immediate feedback on words spelled correctly and incorrectly. Students have the opportunity to further practice their misspelled words.
Teaching Tip: Spelling TestMe allows for differentiated spelling instruction. Teachers can assign different spelling words for students and assess them at the end of the week using Spelling TestMe. It automates the assessment process, generating and grading tests.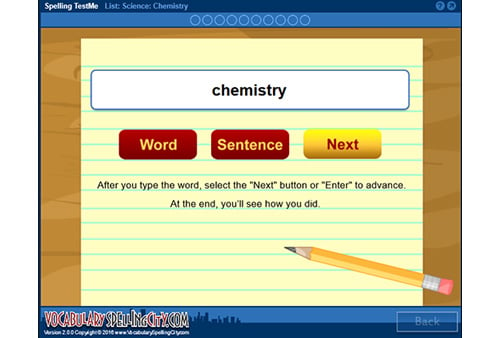 1. Take Test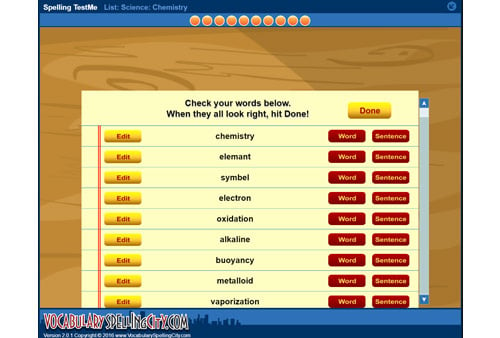 2. Review Words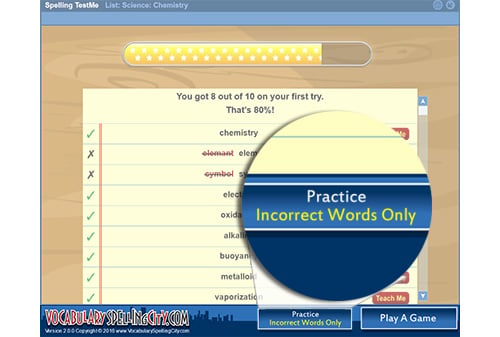 3. See Results Including Errors
4. Practice Challenging Words Until Proficient
More Learning Activities & Games