Alphabetize
The standards correlation for this activity is coming soon!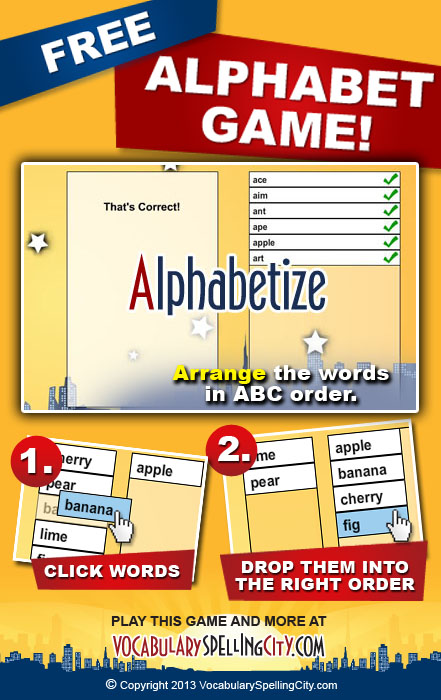 Alphabetize provides students with the opportunity to arrange spelling and vocabulary words in alphabetical order in an interactive format.
Try Alphabetize
with a sample word list!
Create your own word lists and more with Premium Membership
More Learning Activities & Games
Alphabetize - Learning to put words in alphabetical order (more commonly known as ABC order) is a vital early literacy skill. Children love to play ABC order games.Alphabetize is an online game that can also be used to print ABC order worksheets! Enter your students' names as a word list to create a fun activity that helps them learn to alphabetize names!
Alphabetize Instructions: The object of Alphabetize is to put the words in the left column in alphabetical order in the right column. You can either click on the words in order or drag them to the right column. To reorder the words in the right column, simply click on the word you wish to move and drag it to its new position. When you are finished, click the Submit button. For longer lists, click the Next button to view the next set of words. When you have completed the game, click the Finish button.