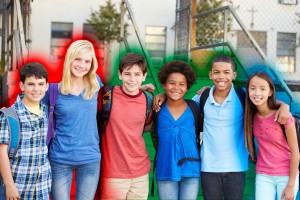 VocabularySpellingCity provides several powerful flexible ways to support differentiated learning. Differentiated instruction means meeting students where they are and providing them appropriately difficult learning challenges.  For VocabularySpellingCity, this means being able to provide customized lists, assignments, and activities to specific students or to groups of students.
One of the simplest ways to differentiate with VocabularySpellingCity is to simply provide different lists for different students or groups of students.  One of the nice features here is that lists are only shown to specific students or student groups so the rest of the class is not aware of the lists that each students can see. It's discreet.
Many of the popular Reading Series use this concept of  differentiated lists for their word study. For instance, McGraw-Hills Reading Wonders provides three lists for each lesson: Approaching Level, On Level, and Above Level.  To control which students get to see which lists, use the List Visibility Settings.  To make this easier, you can put students in groups. This is done using the students section which is listed in the tool box on the top right of the page
A second tool that teachers can use for differentiating is through assignments. Assignments, which are sequences of activities with lists, can be assigned to specific students, groups of students, or the whole class. Again, students only see their own assignments so it's private.
A third way that teachers can differentiate is by using the Review Lists feature.  Review lists can be set up so that lists are generated based on mistakes made by the student on vocabulary or spelling tests.  Review lists are generally created with a unique list for each student. However, review lists can also be generated for groups of students  (or a whole class) so that the list is based on the most common mistakes made by the groups. Here's a quick video on using Review Lists (1:29)
The fourth way of providing differentiated learning is for students to enter their own Personal lists. To allow students to enter and save their own lists, on List Management, click on "Allow students to create lists". Here's a quick video on using  Student-entered Lists (2:22)
In summary, all teachers know that they should, to put it in vernacular: "Teach students where they're at." Or, as educational leaders put it, studies have shown that differentiated instruction is a key success factor in educational effectiveness and maintaining engagement.  While everyone agrees that personalized exercises is the goal, few teachers have the resources or time to deliver differentiated instruction and many are turning to technology as the best hope to achieve. VocabularySpellingCity today has a suite of ready-to-use tools to deliver this holy grail of education, differentiated instruction.
Tools for Differentiated Learning