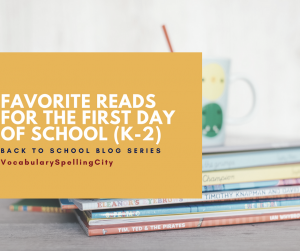 It's important to start off the new school year on the right foot. So much of
first day of school
lesson plans focus on classroom rules and procedures. Read-alouds are an engaging way to address your expectations for the year, while also fostering positive first-day feelings. The following favorite reads fit perfectly for the
first day of school!
David Goes to School by David Shannon- In David Goes to School, mischievous David just can't seem to follow the rules. Read the story aloud, then use the book to lead a discussion on the importance of classroom rules. Have students brainstorm what David should do be doing in class. Together, create a poster with the classroom rules.
The Kissing Hand by Audrey Penn – The Kissing Hand is a sweet story about Chester the raccoon's first day of school. Chester, like many small students, feels upset about leaving his mother. This story addresses how students can carry their family in their heart anywhere they go. Print out small hearts for students to keep throughout the day.
Chrysanthemum by Kevin Henkes – Chrysanthemum tells the tale of a tiny mouse with a lengthy name. The main character, Chrysanthemum, loves her name, until she is mocked at school. Fortunately, Chrysanthemums' teacher helps her realize how uniquely beautiful her name is. As your students become familiar with each other's names, you can use this book to encourage respect in your classroom. Lead an activity where students partner up to compare and contrast the letters in their name. Students will learn that there are similarities and differences in their name, but that each name holds beauty.
If You Take a Mouse to School by Laura Numeroff – If You Take a Mouse to School  follows the style of Laura Numeroff's classic series. This time the sequential circular story is set in the halls of school. Quickly introduce the concept of cause and effect and have students write their own take on the tale. Afterwards, give students a tour of the school and review expectations at each location.
Miss Nelson is Missing by Harry Allard – In Miss Nelson is Missing, the students of Room 207 are a rowdy bunch that don't appreciate their kind-hearted teacher, Miss Nelson. That's until the frightful substitute Viola Swamp steps in. This is another book to use to teach appropriate classroom behavior. Have students write down the characteristics of great student as well as the characteristics of a great class, to avoid being like the worst-behaved kids of Room 207. This story may be more age-appropriate for a second grade class.
First Day Jitters by Julie Danneberg – First Day Jitters has an interesting twist that will make students think. In this story, Sarah Jane Hartwell wakes up nervous for the first day of school. Turns out Sarah is a new teacher! The story shows students that the first day can be nerve-racking for everyone, not just students. After reading, have students reflect and share about their first-day feelings. A popular activity to accompany the book is to make jitter juice. Before students shake off those jitters with juice, review how to follow simple steps and procedures during the juice-making process.
Wemberly Worried by Kevin Henkes – Another classic tale that covers the topic of first-day feelings is Wemberly Worried. Worrywart Wemberly worries about it all. Her newest and biggest worry is the first day of school. Once she's there, she meets a fellow classmate who is just like her. Wemberly quickly realizes school can be fun. The book can lead to a discussion about first day worries, as well as a conversation about what students are looking forward to in the school year.
Make sure to have these children books on hand for the first day of school! Also check out a list of other kindergarten, first grade and second grade literature and accompanying word lists!
What books would you recommend to read on the first day of school? Comment below!
Favorite Reads for the First Day of School for K-2