Word Lists & Lessons

Reading Programs
Grade Level Lists
English / Language Arts

Figurative Language
Grammar
Spelling
Vocabulary

Literature
Math
Science
Social Studies

Educational Topics
Product Info
Training & Help
Funding
| | |
| --- | --- |
| Verb Tenses | |
---
VocabularySpellingCity offers video lessons, interactive games, and printable activities to enhance verb tense learning at four grade bands (K-2, 3-5, 6-8, 9-12). The variety of user-friendly tools helps both teachers and students reach their goals effortlessly.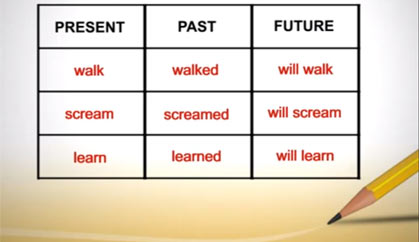 Teaching Verb Tenses: Time and Action
If you are looking for tools to teach verb tenses, look no further! VocabularySpellingCity has everything from verb tense printable worksheets and presentations to various verb tense games. The wide range of verb tense exercises can be adapted to any lesson. When students use word lists and play word games on VocabularySpellingCity, they read the word definitions and hear spoken examples of the verb tenses within sentences. These games and exercises demonstrate the proper, in-context use of verb tenses. Students hardly realize they're learning important verb forms, even as they play online verb tense games or complete verb tense worksheets. Here are the printable worksheets based on the Featured Games for verb tenses:
Importing Verb Tense Lists into Your Account and Customizing Them
To use these ready-made lists with your students, select "Import" after clicking on the Sample Word Lists button above. You then can customize the lists, in case you want to add or remove words from a list, or even write your own sentences
If you are focused on certain words and want to hand-pick your verbs and their tenses, it is easy to create a new list. Learn the five simple steps for publishing your own customized lists.
If you have a premium account, you can assign lists and games to your students and track their activity for differentiated learning.
VocabularySpellingCity helps teachers and parents create lists of verbs that can supplement the students' verb tense learning in fun and enjoyable ways. Simply select as many verbs as you would like and add them to the list in their past tense, present tense, and future tense forms. You can even increase the difficulty level by adding more complex verb tenses. Do a list search for the specific kinds of verb tenses you are looking for to save time by using an existing list. In no time, students will grasp exactly how verb tenses convey an action that has taken place in the past, that is taking place in the present, or that will take place in the future.
Verb Tenses in Early Spoken Language
Children learn the basic idea behind verb tenses quite early, as they see how some things happened yesterday, others are happening right now, and other things will happen tomorrow. Understanding ideas about time doesn't mean children automatically use the correct verb tenses. We've all heard young children move fluidly through different verb forms, mixing up their tenses, sometimes within the same sentence.
Learning Through Modeling Verb Tense Use
As children grow up and increase their exposure to all the verb forms, the distinctions in verb tenses start to multiply. The simple tense expands into perfect tense, progressive tense, and even to perfect progressive, with each of these applied to past, present, and future. Learning how all these tenses are formed and then using them properly can be a daunting prospect.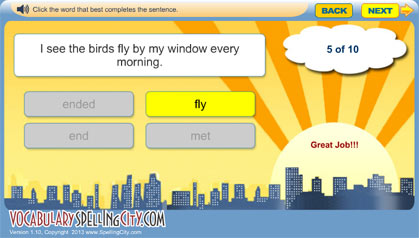 Using Verb Tenses for Clarity
The various verb tenses allow a speaker or writer to be very specific, not just about when an action occurs, but about whether that action occurs regularly, comes before another action, just keeps going on, or happens once and not again. Verb tenses allow verbs to be very powerful. But even when students need to know and understand the verb tenses list, it still takes practice using verb tenses exercises before the correct formation and use of these tenses comes naturally to students. Try making your own list of past, present, and future verbs to help your students learn the verb tenses!
This verb tenses list summarizes all the tenses for regular verbs:
Past Tense
Simple (merely happened at some indefinite time in the past) - I talked.
Perfect (action that started and finished in the past) - I had talked.
Progressive (ongoing action that happened sometime in the past) - I was talking.
Perfect Progressive (ongoing action that started, continued, and finally stopped in the past) - I had been talking.
Present Tense
Simple (considered to be happening right now, or which happens regularly) - I talk.
Perfect (a finished action, viewed from right now) - I have talked.
Progressive (action continuing at this moment, or which starts and goes on for a while, on a regular basis) - I am talking.
Perfect Progressive (ongoing action that has recently finished) - I have been talking.
Future Tense
Simple (will happen in the future) - I will talk.
Perfect (will start and finish in the future, before a second action takes place) - I will have talked.
Progressive (will start and continue in the future) - I will be talking.
Perfect Progressive (will start and continue in the future, before a specific time) - I will have been talking.
Meeting the Common Core State Standards
The Common Core State Standards for Language Arts set out a program of gradual familiarization and mastering of verb tenses, especially through elementary school. For example, in second grade, students should, "form and use the past tense of frequently occurring irregular verbs (e.g., sat, hid, told)" whereas by the end of fifth grade, students should "use verb tense to convey various times, sequences, states, and condition". The age-appropriate lists of verbs that educators create at VocabularySpellingCity can help children at each grade level develop proficiency in verb tenses, both for regular verbs (I talk, I talked, I will talk) and irregular verbs (I am, I was, I will be).
Click to view Verb Tenses at a glance