Word Unscramble
The standards correlation for this activity is coming soon!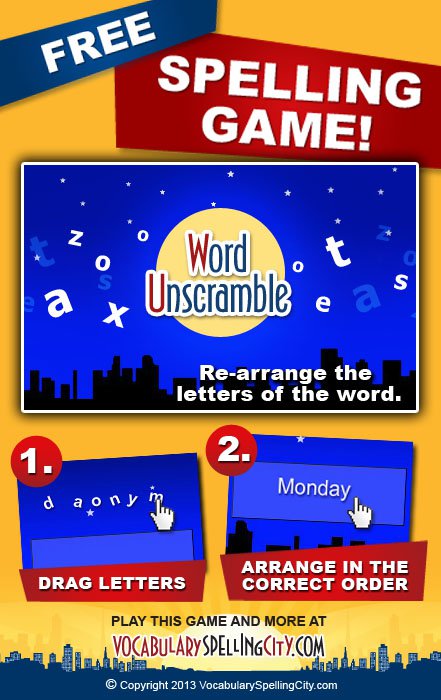 Use Word Unscramble to encourage students to rearrange letters to correctly spell words on their lists.
Try Word Unscramble
with a sample word list!
Create your own word lists and more with Premium Membership
More Learning Activities & Games
Word Unscramble is a particularly popular word game that is a variation on other word games such as text twists, Boogle, Scrabble, Words with Friends, jumbles, and anagrams. Anagrams often extend word unscramble to include phrases or sentences. VocabularySpellingCity also has a game where players unscramble sentences.
Word Unscramble Instructions: The object of the activity is to unscramble letters to form each of your spelling or vocabulary words. To create the words, you may click on each letter in order or click and drag the letters into the box below. To move a letter, click on it and drag it into its new position before releasing the mouse button. Click the Hint button to hear the word read aloud. Word Unscramble is available as an online activity or you can create your own word finder worksheet from the game!