One of the benefits of taking spelling and vocabulary tests on VocabularySpellingCity is that students get immediate feedback. Upon completion of a test, detailed results are given and reports may be printed.
Spelling Test Results
After completing a Spelling Test (or Practice Test for Premium Members), students are immediately shown their test results, including the number of words they spelled correctly, the number spelled incorrectly, and the number of words not attempted. The correct spelling is given for any incorrect or missed words, and students have an opportunity to practice their words by clicking the Teach Me button next to each word or retake the test on the words that they missed.
Students can also print a detailed Spelling Test Report, displaying all of the information mentioned above, and/or print out a certificate that can be personalized.
Vocabulary Test Results
After completing a Vocabulary Test (or Practice Test for Premium Members), students immediately see their scores, along with a list of words answered correctly and those answered incorrectly. A detailed Vocabulary Test Report can also be printed, showing which items were answered incorrectly, along with the correct answers.
| Common FAQs - Test Results | |
| --- | --- |
I'm a Premium Member. Why aren't my student's names appearing at the top of their test reports?

Please make sure that you have entered first and last names for each of your students. If only usernames have been entered, click the Show Viewing Options link and select Username under the Student Name options.
Why aren't all of my lists appearing on the Test Results page?
Test results for up to 10 word lists may appear on the Test Results page at any given time. The default setting is to show the 10 most recent lists. To select which lists appear on your Test Results page, click Show Viewing Options. Under Lists, select Select Lists, then check off up to 10 lists. If your lists have been grouped, you can open the groups by clicking on the red arrow next to the list name. Click Save List Selection when you are done.
Can I print spelling test reports for all of my students at one time?
If you are a
Premium Member
, you can! On the
Test Results
page of your account, click the black gear underneath the name of the list you wish to print results for. Then select which test grades (spelling or vocabulary) you would like to print for that list. PDFs of the test reports will open in a new window and may be printed as a batch.
If you wish to print a test report for a single student, click on that student's grade in the Test Results section and select "Print Test Results".
What is the difference between a Practice Test and a Spelling Test or Vocabulary Test?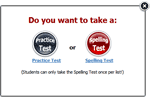 Students of Premium Members may take a Practice (vocabulary or spelling) Test as many times as they wish. Scores for Practice Tests (as well as any words missed) may be viewed by clicking a student's username within Students. A Spelling Test or Vocabulary Test may be taken only once*. These scores will be recorded under Test Results.
*You may disable this feature by clicking on the black gear in Help box in the Test Results section to open the Practice Test Settings menu. Turning Practice Tests off will allow students to take Spelling Tests and Vocabulary Tests multiple times, with the most recent results appearing under Test Results and results for previous attempts recorded under Student Activity.
If the Practice Test feature is enabled, can I allow students to retake a Spelling Test or Vocabulary Test?
Yes, you can allow retakes for your entire class, or for select students. To allow your entire class to retake a spelling or vocabulary test for a given list, click on the black gear icon underneath the list name on the Test Results page and select either Allow Spelling Retest or Allow Vocabulary Retest. To allow certain students to retake tests, click on the student's test score underneath the list name in the table and select Allow Retest. Please note that the test scores will be renamed Practice Test scores and will appear under Student Activity, rather than Test Results.
Can a certificate be printed for completing a Vocabulary Test?
At this time, certificates are only available for Spelling Tests.