Word Lists & Lessons

Reading Programs
Grade Level Lists
English / Language Arts

Figurative Language
Grammar
Spelling
Vocabulary

Literature
Math
Science
Social Studies

Educational Topics
Product Info
Training & Help
Funding
Middle School The Number System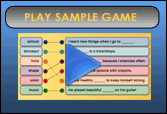 In middle school mathematics, students learn many new ways of using math, so it's essential that they understand how to manipulate the basic number system. This means extending their understanding of math operations like division, multiplication, addition, and subtraction into the realm of advanced fractions (starting in grade six), rational numbers in grade 7, and by the 8th grade, even beginning to explore irrational numbers. Learning to manipulate the full number system in middle school gives students a good foundation for later, more complex mathematics. Of course, along with this, students need a thorough grounding in number system terminology.
The math vocabulary lists are based on the Common Core Middle School Math Standards. VocabularySpellingCity has selected the middle school math words that apply to the key math concepts and written level-appropriate middle school math definitions combined with meaningful example sentences. Middle school students can use these materials for reinforcement to build understanding or assessment. Teachers can import the lists into their account and then edit or extend the lists for their own purposes.
Return to Math Vocabulary Overview.
Common Core State Standards Overview for Middle School -
The Number System
Apply and extend previous understandings of multiplication and division to divide fractions by fractions.
Multiply and divide multi-digit numbers and find common factors and multiples.
Apply and extend previous understandings of numbers to the system of rational numbers.

Apply and extend previous understandings of operations with fractions to add, subtract, multiply, and divide rational numbers.

Know that there are numbers that are not rational, and approximate them by rational numbers.

Source: www.corestandards.org
The math word lists, which conform to the Common Core State Standards, allow students to learn mathematics vocabulary while having a good time. That is because the vocabulary lists can be used with all 20 VocabularySpellingCity games. These and other tools, including printable worksheets and online testing, ensure students have a thorough understanding of the basic number system, while laying the groundwork for learning the expanded number system in the years to come.

The Number System Math Vocabulary
Words at a Glance:
Sixth Grade The Number System

---
The Number System: composite, cardinal number, consecutive, greatest common factor, natural numbers, reducing, inverse operation, prime factorization, least common multiple, quotient
Seventh Grade The Number System

---
The Number System: least common multiple, composite, perfect, cardinal number, remainder, inverse operation, estimation, ordinal number, factorization, prime, unit rates, negative exponents, interquartile range, quartile, scientific notation, perfect square, linear equation, square root, scatter plots, least common multiple
Eighth Grade The Number System

---
The Number System: expression, convert, value, truncate, rational numbers, approximation, number line, decimal, irrational numbers, expansion
---
For a complete online Math curriculum in Kindergarten Math, First Grade Math, Second Grade Math, Third Grade Math, Fourth Grade Math, Fifth Grade Math, Sixth Grade Math, Seventh Grade Math, or Eighth Grade Math visit Time4Learning.com.
Here are some fun Math Games from LearningGamesForKids by grade level: Kindergarten Math Games, First Grade Math Games, Second Grade Math Games, Third Grade Math Games, Fourth Grade Math Games, Fifth Grade Math Games, Addition Math Games, Subtraction Math Games, Multiplication Math Games, or Division Math Games.