How do you engage your students?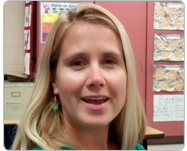 "VocabularySpellingCity's immediate feedback is one of the keys to my students' success. They don't have to wait for me to correct their work to know which words require additional practice."
Ann Godsea, 5th Grade Teacher - Estero, Florida

Engaging
Word study doesn't have to be boring.
Transform any word list into a fun activity! Choose from over 35 learning activities. Students can independently engage in personalized game-based learning. You can use their student data to track progress and easily adjust instruction.
Have you considered flipping your classroom? VocabularySpellingCity proposes using flipped classroom teaching methods through Premium features like Assignments to assign writing, vocabulary and spelling activities for use outside the classroom. VocabularySpellingCity automatically tracks test results and assignment activities for Premium Members, leaving teachers more time to do what they do best - engage their students!

Convenient
Activities available when and where you need them.
VocabularySpellingCity is a web-based resource that can be used with any curriculum. This flexible platform allows you to use any existing word list on our site or create a custom word list. Use VocabularySpellingCity for your weekly Spelling Tests or to introduce new vocabulary in any subject area. Do your students need additional writing practice? We have that too! Assign activities and manage your account on the web or on the go using using our app!

Efficient
Tired of manually grading spelling and vocabulary tests?
Progress monitoring tools help guide instruction. In just a few clicks you can assign specific learning activities or create individualized Review Lists to target your students' instructional needs. Choose from a library of over 50,000 words complete with context-rich sentences and definitions read by a human voice. Create your own lists, or select from word lists organized by subject, grade level and content area, like Academic Vocabulary Word Lists, Dolch-Sight Word Lists and thousands more. Your students can work independently, allowing you more time for planning or one-on-one instruction.

You can even save time by sharing word lists and activities with other teachers!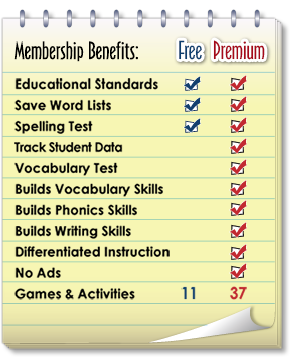 Affordable
Everyone loves affordability!
Register as a free user to access some activities or purchase Premium Membership now to access all features immediately. Classroom Premium Membership is only $52.95 per year (up to 25 students).
Use all 25 licenses for your own class, or share them with another teacher. Per student pricing available for larger classrooms or implementations.

Request a quote:
[email protected]
800-357-2157

Generate a quote online through any educator account.

Explore additional funding options.