Word Lists & Lessons

Reading Programs
Grade Level Lists
English / Language Arts

Figurative Language
Grammar
Spelling
Vocabulary

Literature
Math
Science
Social Studies

Educational Topics
Product Info
Training & Help
Funding
| | |
| --- | --- |
| Syllables/Segmenting | |
---
Welcome to VocabularySpellingCity's Syllables page! Here you can download tutorials on syllables, access free syllables online activities, and view our syllable patterns video lesson.
Check out the themed, grade specific syllables divider games. The games include an option to view a syllables instructional video and an animation that also outlines the patterns for dividing words into syllables.
Read our tips about which types of words that are ideal for illustrating syllables in words and strategies for teaching syllables.
Click on the ViewA Lesson button above to learn more about teaching syllables and segmenting words to young children. Nine key patterns are covered in the Syllables Patterns video lesson.
A Variety of Syllables Divider Games
Children enjoy learning about syllables by playing fun online games. You can find some syllables divider games by clicking on the Enrichment Strategies button above. Our sister sites, Vocabulary Fun and Learning Games For Kids, have more syllables games your students can enjoy!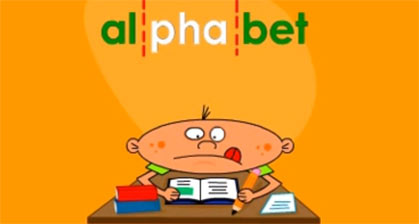 Words to use for Teaching Syllables
Many Dolch - Sight Words are simple, one-syllable words (me, him, was). Compound words are often two-syllable words (rain|bow, sun|set, dog|house). Understanding syllables and learning to segment words not only helps children master phonics, but these skills also play a vital role in learning to spell, read and pronounce words correctly.
Fun Ideas for Teaching Syllables
Try having your students clap as each syllable of a word is spoken aloud or try holding their hands underneath their chins and counting the number of times their mouths open to determine the number of syllables in a word.
A great center activity for learning syllables involves having students write their words on sentence strips and cut the strips into individual syllables.
Syllables play an important role in spoken English, in that they greatly influence the rhythm of the language, its poetic meter and its stress patterns. As the basic units of speech sounds, syllables are often considered the phonological building blocks of words. For example, the word "vocabulary" is composed of five syllables: vo + cab + u + lar + y. Syllables are often introduced to children in Kindergarten.
More on the Syllable Patterns Video Lesson
The Syllable Patterns Video Lesson details the most common patterns found in segmenting words and gives an example of each. Patterns include:
Always divide after the prefix. pre|view
Always divide before the suffix. mo|tion
When one or more consonants are followed by "le", count back three and divide. ta|ble (Note: This rule does NOT apply to works that end in "ckle" (like "pickle")).
When there are two consonants in the middle, you should divide the word between the consonants, unless they blend into one sound, such as "ph" or "ch". rab|bit
When one consonant appears between two vowels, it will most likely be in the same syllable as the second vowel. si|lent
Divide between compound words. sun|rise
Divide before a single middle consonant when the vowel sound before it is long. o|pen
Divide after the middle consonant when the vowel sound before it is short. hab|it
Divide between two vowels that don't blend to make one sound. be|ing
Click to view Syllable Words at a glance