Information
Summer Program
Want to fight "brain drain" this summer? VocabularySpellingCity has a solution! Keep your children bright this summer and they'll shine all year long!
Do your children love to play online games? Why not incorporate some learning into their gaming this summer?
VocabularySpellingCity has a new summer word study program that allows children to sharpen academic skills as they play. These simple assignments are a daily workout for the brain, building literacy skills such as vocabulary, spelling, and writing.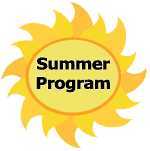 Summer Program Highlights:

Vocabulary, spelling, and writing activities.
Work online or using our apps.
Review last year or get a head start on next year.
Available for grades 1-12.
Children work at their own pace.
40 pre-set assignments that may be customized.
The Summer Program costs only $29.99 (for up to five students).
As a bonus, you'll get a VocabularySpellingCity Family Premium Membership to use to help build skills during the entire next school year. Click the Sign Me Up button to get started!

Grade Levels Available for the VocabularySpellingCity Summer Program

(click on to view)
| Summer Program FAQs | |
| --- | --- |