| | |
| --- | --- |
| Students Using VocabularySpellingCity | |
Students do not need to log in or have an account in order to use VocabularySpellingCity. Only students of Premium Members need to log in.
Students have two ways of getting started using their own lists:

1. They can type their spelling words into the notepad on our homepage, then click on their desired activity - Spelling Test, TeachMe, or Play A Game. The student's list will stay in use as long as he/she continues using the navigation buttons at the bottom of each activity.

Note: Vocabulary Test & FlashCards are only available to logged-in Premium Members.

2. If their teacher or parent has an account with VocabularySpellingCity and has published lists, students can use our Find A List feature to search for their teacher's or parent's homepage.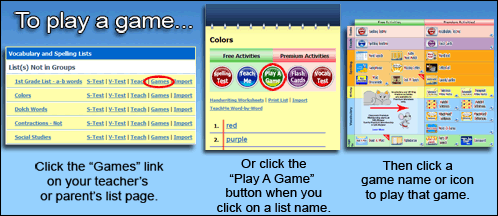 | Common FAQs - Students Using VocabularySpellingCity | |
| --- | --- |
How do I find a list created by my teacher or parent?

Click on Find a List.
Select a "Search by" choice. You can also find your teacher's list by clicking on your state or country, then city and school name.

If your teacher gave you a username and password, your teacher is a Premium Member and you may log in by first clicking the blue "Login" button the top right-hand corner, then entering your username and password on the right side (Student Login). Once logged in, click on "My Teacher's Page" in the upper right corner of your screen.

Do I have to enter a list to play games on the site?

Although you can enter and use your own word lists, VocabularySpellingCity offers a wide variety of lists that you can use to play both our free and our Premium games. You can find sample lists right on our home page, on the instructions page for each game and activity, and also in our Teaching Resources section.