| | |
| --- | --- |
| The Students section of your account is the place to manage your students' accounts. You can set up accounts for your students, create student groups, print or download reports and welcome letters to send home to parents. | |
Creating accounts for your students is covered under Adding Students. You can enter student individually, as a batch entry, as a CSV upload, or (in the case of large accounts where the Student Bucket Upload was used) select your students from a bucket. Once students have been added, Premium Members can create student Groups. This is very useful if you have students of varying learning levels in your classroom. You can edit a students' account information (username, password, etc.) at any time.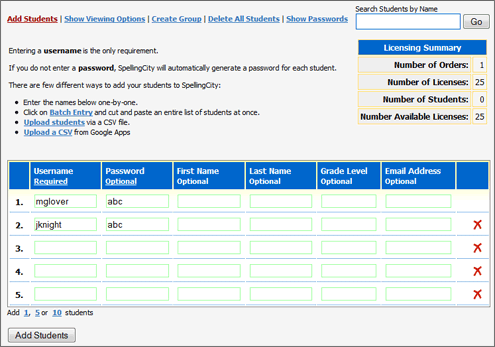 The Students section features several printing and downloading options as well. These include the option to print or download a CSV file containing each student's username and password and the ability to print welcome letters introducing parents to VocabularySpellingCity to send home with your students or simply print a username and password for each student that may be cut out and sent home. Welcome letters are automatically pre-populated with each student's username and password and you can even add your own instructions and a signature!
You can print a personalized welcome letter for each student containing his/her username and password, explaining how the site works OR you can simply print out a sheet of small slips containing only each student's login information. From your Students tab, select Print & Download, then select "Print Student Welcome Letter Home." From here, you can print a welcome letter OR print only the username and password for select students or for all students.
| Common FAQs - Students | |
| --- | --- |
I need to add my students, but I only see five spaces available. How do I add more than five students?
To add additional students (provided you have enough licenses), click the hyperlinked numbers that appear underneath the table where students are added.
I added my students, but when I logged back in, they were gone! What happened?

You MUST click the Add Students button at the bottom of the page after entering your students' information in order to save it to your account.
I just got a new student and I would like to print a welcome letter for her. Do I have to print letters for the entire class, or can I just print one for her?

You can print welcome letters or usernames/passwords for individual students. To do so, from the Print & Download Options menu, select Print Student Welcome Letter Home, then check the box next to Select Students and check off the name of the student.

I accidentally deleted one of my students, can I retrieve his records?

If you delete any students from your account, their records cannot be retrieved. If the student's former username is still availble, you may reuse it. If another member has taken the username, a number will be appended to the end of the username.

It is the start of a new school year. How do I add my new students?

You must first delete last years' students in order to free up licenses for your new students. To do so, click the Delete All Students link in the Students section. Please note that once students' accounts have been deleted, their records may not be retrieved. Be sure to print any necessary reports before deleting students. Once last year's students have been deleleted, you can now add your new students.

How can I retrieve my students' usernames and/or passwords if I've forgotten them?

You can view your students' login information anytime by clicking on Students tab in your Toolbox. If you need to change any of this information, simply click the Edit link next to the student's name.

How do I know if my school has uploaded my students using the Student Bucket?

When you select Add Students in the Students section of your account, if you see an option that reads "Get Students from bucket", this means that your school (or district) has uploaded students for you. Clicking the link will allow you to select your students from the bucket.

My school used the Student Bucket upload, but I've gotten new students, can I add them to my account myself?

No. If your school has a Student Bucket, it is best to have the new students added to the bucket, then you can choose them from the bucket through your account.