Word Lists & Lessons

Reading Programs
Grade Level Lists
English / Language Arts

Figurative Language
Grammar
Spelling
Vocabulary

Literature
Math
Science
Social Studies

Educational Topics
Product Info
Training & Help
Funding
Beginning Spelling Curriculum
VocabularySpellingCity's Beginning Spelling Curriculum was developed to provide educators and parents of children in Kindergarten through second grade with a sequential curriculum for teaching sound-symbol correspondences. It helps students achieve spelling success by systematically building strong foundational skills.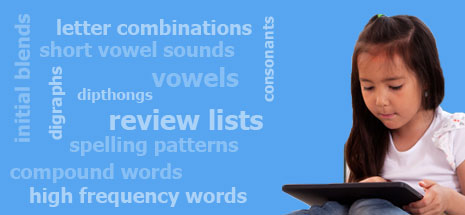 Beginning Spelling Curriculum may also be used as an intervention for struggling spellers regardless of age or grade level.
The curriculum is broken up into units of five weeks each:
Each of the first three weeks focuses on a regular spelling pattern.


The fourth week focuses on words that are most frequently used in reading and writing. Many of these high frequency words have irregular spelling patterns.


The fifth week is a review of the previous four weeks.