Word Lists & Lessons

Reading Programs
English / Language Arts

Figurative Language
Grammar
Spelling
Vocabulary

Literature
Math
Science
Social Studies

Educational Topics
Product Info
Training & Help
Funding
Middle School Ratios & Proportions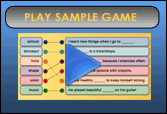 The application of ratios to describe proportional relationships is a difficult concept to grasp, as students tend to confuse ratios with fractions. A ratio represents two integers that compare proportional amounts, and these proportional relationships increase accordingly. It is crucial in a middle school math curriculum to make the distinction between the two, and to ensure that students have a strong understanding of the related definitions.
The math vocabulary lists are based on the Common Core Middle School Math Standards. VocabularySpellingCity has selected the middle school math words that apply to the key math concepts and written level-appropriate middle school math definitions combined with meaningful example sentences. Middle school students can use these materials for reinforcement to build understanding or assessment. Teachers can import the lists into their account and then edit or extend the lists for their own purposes.
Return to Math Vocabulary Overview.
Common Core State Standards Overview for Middle School -
Ratios & Proportional Relationships
Understand ratio concepts and use ratio reasoning to solve problems.

Analyze proportional relationships and use them to solve real-world and mathematical problems.

Source: www.corestandards.org
VocabularySpellingCity supplies activities and tests that will secure a student's comprehension of ratio concepts. This will enable a student to perform ratio operations ranging from calculating the ratios of objects to ratios of physical quantities such as rates. By seventh grade, a student will be capable of solving real-world and mathematical problems, such as creating tables of equivalent ratios, plotting these ratios on a coordinate plane, and calculating a percent quantity out of 100. Based on the Common Core State Standards, the ratios and proportional relationships word lists below help students sharpen their ratio reasoning and achieve these exciting accomplishments.

Ratios & Proportions Math Vocabulary
Words at a Glance:
Sixth Grade Ratios & Proportions

---
Ratios & Proportional Relationships: cubic, kilometer, Fahrenheit, volume, centiliter, capacity, weight, temperature, velocity, quantity
Seventh Grade Ratios & Proportions

---
Ratios & Proportional Relationships: analyze, fraction, unit rates, area, coordinate plane, simple interest, proportion, origin, point, equivalent
---
For a complete online Math curriculum in Kindergarten Math, First Grade Math, Second Grade Math, Third Grade Math, Fourth Grade Math, Fifth Grade Math, Sixth Grade Math, Seventh Grade Math, or Eighth Grade Math visit Time4Learning.com.
Here are some fun Math Games from LearningGamesForKids by grade level: Kindergarten Math Games, First Grade Math Games, Second Grade Math Games, Third Grade Math Games, Fourth Grade Math Games, Fifth Grade Math Games, Addition Math Games, Subtraction Math Games, Multiplication Math Games, or Division Math Games.