Premium Membership Students
| | |
| --- | --- |
| Students of Premium Members have access to everything VocabularySpellingCity has to offer! Your teacher or parent should have provided you with your own username and password. Once you log in, you can see any Assignments that need to be completed, visit your teacher or parent's home page to find word lists, or check your test scores and writing activity grades! | |
| Common FAQs - Students (Premium) | |
| --- | --- |
I forgot my password – can I request a new one?

No – only teachers (or parents) can change your password. Please contact your teacher (or parent) for your password.
When I try to log in on the computer, I keep getting a message that I'm using the incorrect username or password, but I'm using the information that my teacher gave me.

Please make sure that you are entering your username and password into the Student Login box on the right-hand side of the Login page. If you continue to receive an error message, please check with your teacher to verify that you have the correct username and password.

Can I skip activities in an assignment and go back to them later?

Your teacher has the option of requiring activities to be completed in the order assigned or in any order. If you are able to select only one activity at a time within your assignment, your teacher wants you to complete the activities in order.
How can I find my teacher's spelling lists once I've logged in?

On a computer, in the upper right corner of the page, you will see a menu similar to the one to the left. Click on the link labeled My Teacher's Page. This will bring you to his/her home page where saved lists are located. If you see Assignments in the green box, lists have already been loaded for you. On the app, your teacher's lists will be displayed as soon as you log in. If you have any assignments waiting, you will see a notification in the green box at the top of the screen.
How can I see my scores for tests and writing practice activities?
On a computer, in the upper right corner of the page, you will see a menu similar to the one above. Click on the link labeled My Records to view your scores. If you are logged in on the app, click on the blue box in the upper right-hand corner with your name in it, then select See Records from the menu.
I did my assignment, but my teacher said it wasn't complete. What happened?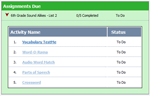 Activities that are part of an Assignment must be completed from within the green assignment box itself. If you access an activity or test from another page (like the games page), it will not be marked as a completed activity for the assignment.


I played some games last night, but my teacher said they didn't get recorded. Why?
In order for a game or activity to be recorded for your teacher, make sure that you are logged into your account and you go all the way to the end of the activity. If you switch to another activity or log out before the end, the activity will not be recorded. Also, only activities completed using lists entered and saved by your teacher or parent will be recorded.

I clicked "Save Your Progress" when I was doing my Writing Practice activity, but when I opened it up again, my work was gone! What happened?
Once you click "Save Your Progress," a new link will appear in the toolbox menu in the upper right-hand corner of the screen. You MUST click the Resume Writing Practice link in your toolbox menu to resume work on your saved Writing Practice activity. If you restart the activity without clicking "Resume Writing Practice," your saved work will be overwritten.

Also, please note that saving your progress is not the same as submitting your work to the teacher. You will need to click the Submit button to submit your work once it has been completed.