Word Lists & Lessons

Reading Programs
Grade Level Lists
English / Language Arts

Figurative Language
Grammar
Spelling
Vocabulary

Literature
Math
Science
Social Studies

Educational Topics
Product Info
Training & Help
Funding
---
VocabularySpellingCity provides tools to help students master the meanings of prefixes and suffixes and enrich their vocabulary. Using grade-appropriate word lists, students move from words with the most basic suffixes or prefixes up to more complex suffix and prefix examples. Through prefixes and suffixes worksheets, games, and other teaching tools, students learn the fascinating ways that a prefix or a suffix ending takes the basic meaning of a root word and creates new words.
Learning the Meaning of Suffixes and Prefixes
The word lists, video lesson, and activities at VocabularySpellingCity begin with the simple prefixes "un" and "re." Students learn how to change the meaning of a word like "real" into "unreal," its opposite, or how to show that one can "do" an action and then "redo" it. By middle school grade levels, students recognize how prefixes and suffixes meanings change "marine" into "submarine," or produce a "graduate" through the process of "graduation." The high school word lists include prefixes for numbers, illustrated by words like "megawatt" and "octogenarian."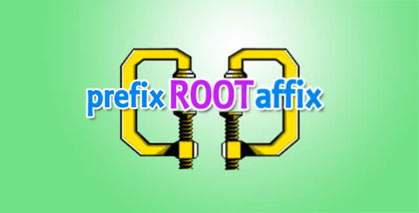 Fun Classroom Activities for Learning Prefixes and Suffixes
VocabularySpellingCity offers prefixes and suffixes exercises that give students practice in recognizing the change in word meanings when syllables from a suffix or prefix list are added to root words. Your students can try one of the Prefix Games that show how words with prefixes are used in sentences. Students learn more quickly when they experience feedback from interactive games.
The Enrichment Strategies provide another way to reinforce prefix and suffix learning in the classroom. For example, your students will enjoy using the Name Me Five activity to make their own lists of words with specific suffix or prefix examples. Group activities allow students to work together to match root words with suffixes or prefixes, creating new words.
Importing Prefixes and Suffixes Lists to Your Account
You can import the VocabularySpellingCity lists of words with prefixes or suffixes directly into your own account. Use these to introduce the subject to your students, or you can customize the lists by subtracting words or adding new words and sentences to meet your own curriculum needs. You may also create your own lists, either from existing words and sentences or from your own personalized word additions and sentences.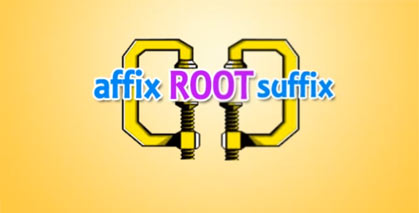 Meeting the Common Core State Standards for Affixes
The Common Core State Standards for Vocabulary Acquisition and Use specify that second graders should be able to "determine the meaning of the new word formed when a known prefix is added to a known word." By grade three, students are expected to use correct spelling "for adding suffixes to base words." VocabularySpellingCity provides lists of words with suffixes and prefixes, both for 2nd graders and those in third grade, to help them meet these education goals. Then as the students progress to higher grades, the prefixes and suffixes games, worksheets, and other activities ensure that they build on that foundation and expand both their knowledge of the meaning of prefixes and suffixes and their store of useful vocabulary as well.