Want to improve your child's success with vocabulary, spelling and writing?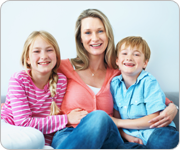 "Dear SpellingCity, your program is amazing. Both our children and their classes use SpellingCity for the assignments. My children have made 100 percent improvement in their spelling since using it.
Thank you."
Kimberly D., mom of two
–
North Carolina

Engaging
Word study doesn't have to be boring. Transform any word list into a fun activity. Choose from over 35 learning games. The kids can play in a game show hosted by a penguin while studying their vocabulary. They can help a mouse sneak a piece of cheese while learning to spell! They'll have so much fun, they won't even realize they're learning!

Convenient
Activities available when and where you need them. VocabularySpellingCity can be used at your child's pace, for extra practice mastering the words assigned by his teacher each week. Want to study vocabulary in the waiting room at the doctor's office? Or practice spelling words in the car? Want to brush up on writing skills afterschool at grandma's house?

No problem! With VocabularySpellingCity, you can access student activities on the web or on the go using our app!

Efficient
Save time with helpful resources! Spending endless hours every week practicing spelling and vocabulary words? With VocabularySpellingCity, your child can direct his own learning! Your child can input any word list for use in any activity. Practice tests help quickly identify words that need more study time. After taking a test, your child gets immediate feedback on results.

You'll be pleased to observe your child's improvement and progress...while your child does the studying.
Affordable
Everyone loves affordability! Register as a free user to see how it works before buying. Or start as a Premium Member for immediate access to all features. For families, Premium Membership is only $29.99 per year, and we offer a 30-day money back guarantee.