Word Lists & Lessons

Reading Programs
English / Language Arts

Figurative Language
Grammar
Spelling
Vocabulary

Literature
Math
Science
Social Studies

Educational Topics
Product Info
Training & Help
Funding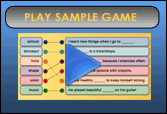 Mathematical modeling brings all of the other high school math subjects together. Through modeling, high school students identify variables in a situation, select an algebraic, geometric, statistical, or other mathematical way of solving the problem, perform operations on the variables, and interpret the results. But it's difficult to apply these models unless students have a thorough understanding not just of modeling terminology, but of high school math vocabulary in general.
The math vocabulary lists are based on the Common Core High School Math Standards. VocabularySpellingCity has selected the high school math words that apply to the key math concepts and written level-appropriate high school math definitions combined with meaningful example sentences. High school students can use these materials for reinforcement to build understanding or assessment. Teachers can import the lists into their account and then edit or extend the lists for their own purposes.
Return to Math Vocabulary Overview.
The modeling word lists ensure that students learn modeling vocabulary following the Common Core State Standards. Via word games, word lists, printable worksheets and online tests, high school students learn math terminology in its proper context. Students are then better equipped to understand and use the key concepts of mathematical modeling for everything from modeling bacterial growth in a colony to finding optimum food distribution methods during a famine, or planning a schedule for a tournament. When students have a thorough grasp of mathematical modeling vocabulary, it shows!

Modeling Math Vocabulary
Words at a Glance:
Number & Quantity - Data Processing: structure, quantity, function, computation, diagram, empirical, statistics, assumptions, predictions, consequences
Number & Quantity - Expressions: algebraic, variables, geometric, algebraic, exponents, expression, parentheses, order of operations, operations, equivalence
Number & Quantity - Operations: integrals, second derivative, irrational numbers, absolute value, real number, rational expression, complex number, absolute extrema, vector, first derivative test
Number & Quantity - Analysis: analysis, data, conclusion, validate, graphical, reason, compare, tabular, report, essential
Algebra - Coordinates: coordinates, function, real number, value, number set, ordered pair, graph, plot, system, coordinate plane
Algebra - Equations: factor, order of operations, structure, expression, constant, variable, equivalent expression, equation, solution, convert
Algebra - Operations: inequality, parentheses, quantity, exponents, operations, expression, equivalence, computation, square, manipulation
Statistics & Probability: sample space, statistics, correlation coefficient, expected values, random variable, probability distribution, empirical, numerical value, regression line, probability concepts, negation, simulations, empirical rule, variance, contrapositive, interquartile range, frequency, conditional statement, standard deviation, conditional probability
Functions: algebraic expression, recursive rule, graph, exponential function, verbal rule, linear function, domain, numerical input, infer, numerical output, variable linear density, slope, implicit function, logarithmic function, converge, matrix, element, transcendental function, concavity, critical point
Geometry: cylinder, density, grid system, physical constraints, area, volume, tangent, prism, estimate, coordinate system, hyperbola, ellipse, circular sector, cusp, ellipsoid, helix, solid of revolution, paraboloid of revolution, asymptote, lamina
---
For a complete online Math curriculum in Kindergarten Math, First Grade Math, Second Grade Math, Third Grade Math, Fourth Grade Math, Fifth Grade Math, Sixth Grade Math, Seventh Grade Math, or Eighth Grade Math visit Time4Learning.com.
Here are some fun Math Games from LearningGamesForKids by grade level: Kindergarten Math Games, First Grade Math Games, Second Grade Math Games, Third Grade Math Games, Fourth Grade Math Games, Fifth Grade Math Games, Addition Math Games, Subtraction Math Games, Multiplication Math Games, or Division Math Games.