Summer Program: Middle School
Games to Build Vocabulary, Writing, and Spelling Skills
VocabularySpellingCity's Summer Program for middle school students provides five lessons per week for eight weeks (i.e. 40 daily assignments) to help students in grades 6-8 build their literacy skills and keep their minds sharp over the summer.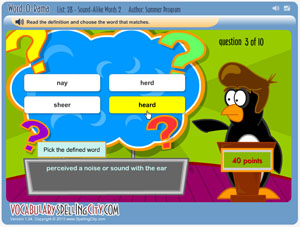 Online summer lessons include vocabulary, spelling, grammar and writing assignments focusing on a range of subjects appropriate to 6th grade, 7th grade and 8th grade. Each day's lesson is organized around a word list and has four games or activities. The word lists and activities are structured to optimize engagement and learning. Math, science and social studies lists are included and used with definition games, sentence games, or writing activities to engage prior knowledge and build mastery of academic vocabulary. Literature vocabulary lessons help middle school students understand the meanings of words in classic novels, such as Treasure Island.. The program also includes lessons on various types of figurative language, which can lead to improved writing skills, plus fun word lists to help middle school students learn the meaning of and how to spell a variety of words.
VocabularySpellingCity's Summer Program for middle school students includes three vocabulary assignments, plus one grammar and one spelling assignment per week. Each assignment includes four grade-appropriate learning activities that focus on introduction, meaning, practice and assessment. Some assignments include summer writing practice as well. All activities and test scores are recorded, and student records may be accessed by parents at any time.
As a bonus for purchasing the Summer Program, parents get a Family Premium Membership for a year at no additional cost. As Premium Members, parents can create their own word lists and assignments for their children to use all year long.
Middle School Summer Program Lesson Topics
Monday
Vocabulary

Tuesday
Grammar

Wednesday
Vocabulary

Thursday
Spelling

Friday
Vocabulary

Week 1

Social Studies Vocabulary - Indigenous Peoples

Irregular Verbs

Multiple Meaning Words

Let's Go Shopping (Frequently misspelled items)

Language Arts Vocabulary - Verb or Noun?

Week 2

Words Ending with -MENT

Personification


Do These Adjectives Describe You?

Frequently Misspelled Words

Literature Vocabulary - Treasure Island

Week 3

Science Vocabulary - Scientific Inquiry

Analogies


Language Arts Vocabulary - Verbs

Spelling Bee


Look What I Can Be (Professions)

Week 4

Science Vocabulary - Space

Regular Plurals


Language Arts Vocabulary - Sound-alike Words

Frequently Misspelled Words 2

Social Studies Vocabulary - New Nation

Week 5

Literature Vocabulary - Roll of Thunder, Hear My Cry

Hyperbole


Math Vocabulary - Statistics & Probability

"V" words

They all Begin with "A"

Week 6

Social Studies Vocabulary - Immigration, Rights and Citizenship

Prepositions

Sound-Alike Words 2

Can You Spell These?

Let's Learn Some New Words

Week 7

Don't I Know You? (Learning the relationship between similar words)

Nouns-Ideas

Words That End With a "Y"

Compound Words

Let's Learn Some More New Words

Week 8

Ends in -OUS

Homophones

Language Arts Vocabulary - Nouns

Choose: IE or EI

Language Arts Vocabulary - Adjectives
Learning games and activities included in the Middle School Summer Program: FlashCards, WhichWord? Definitions, MatchIt Definitions, WhichWord? Sentences, MatchIt Sentences, Vocabulary TestMe, Spelling TestMe, Word-O-Rama, Sentence Unscramble, Sentence Writing Practice, Word Unscramble, Audio Word Match and Alphabetize.
Grade Levels Available for the VocabularySpellingCity Summer Program
Additional Learning Programs for Summer Study