Word Lists & Lessons

Reading Programs
English / Language Arts

Figurative Language
Grammar
Spelling
Vocabulary

Literature
Math
Science
Social Studies

Educational Topics
Product Info
Training & Help
Funding
Kindergarten Math Vocabulary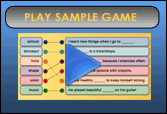 VocabularySpellingCity provides these kindergarten math word lists so teachers and parents can supplement the kindergarten math curriculum with interactive educational vocabulary games. The games and lists are ready-to-use: just select any math area and word list and then pick one of the 25 learning activities. The material was specifically written for use in a kindergarten math class.
The math vocabulary lists are based on the Common Core Kindergarten Math Standards. VocabularySpellingCity has selected these kindergarten math words as they that apply to the key math concepts. Kindergarteners can use this academic vocabulary at school or at home. Teachers can import the lists into their account and then edit or extend the lists for their own purposes.
Common Core State Overview for Kindergarten Math
Counting & Cardinality
View Our Lists

Know number names and the count sequence.
Count to tell the number of objects.
Compare numbers.

Algebraic Thinking
View Our Lists

Understand addition as putting together and adding to, and understand subtraction as taking apart and taking from.

Number & Operations in Base 10
View Our Lists

Work with numbers 11-19 to gain foundations for place value.

Measurement & Data
View Our Lists

Describe and compare measurable attributes
Classify objects and count the number of objects in each category

Geometry
View Our Lists

Identify and describe shapes.
Analyze, compare, create, and compose shapes.

Source: www.corestandards.org
Click for more information on Math Vocabulary and the Common Core Standards in general. For information pertaining to kindergarten in particular, please refer to the chart above. To preview the definitions, select a list and use the Flash Cards. For help on using the site, watch one of our short videos on how to use the site.
As educators will agree, kindergarten math vocabulary and spelling words are a useful foundation to understanding math concepts. These lists give children the building blocks of kindergarten math vocabulary that help them discuss and understand mathematical principles.
Vocabulary and SpellingCity has taken kindergarten number words that apply to key math concepts and incorporated appropriate kindergarten math definitions combined with meaningful example sentences to enable young learners to gain a comprehensive understanding of basic mathematics. Whether using the games for drill and practice or the tests to assess understanding, these themed lists give kindergartners everywhere an opportunity to learn while having lots of fun!

Kindergarten Math Vocabulary
Words at a Glance:
Counting & Cardinality

---
Comparison: big, equal, more, between, less, before, after, opposite, small, compare
Counting: hundred, count forward, even, number, odd, numeral, quantity, small, big
Grouping: pair, table, add, equal, ten, one, count forward, tally, group
Money: coin, money, cent, penny, dime, quarter, count, dollar, nickel
Sequence: fourth, fourth, number line, sequence, order, tens, ones, even numbers, odd numbers
Algebraic Thinking

---
Operations & Algebraic Thinking: different, alike, input, output, sort, outside, object, match, size, similar
Base Ten Operations

---
Number & Operations in Base Ten: minus, value, behind, sum, above, difference, add, compare, zero, below, subtract, under, ones, tens, beside, between, addition, sort
Measurement & Data

---
Measurement & Data: measure, long, estimate, longest, shorter, small, size, big, short, biggest, today, time, minute, calendar, hour, second, yesterday, morning, afternoon, date, minute hand, first, second hand, hour hand, clock, year, equal parts, month, day, week
Geometry

---
Geometry: square, shapes, pattern, triangle, rectangle, cylinder, halves, cone, in front of, cube, inside, middle, sphere, corner, curves, slide, right, graph, circle, left
---
For a complete online Math curriculum in Kindergarten Math, First Grade Math, Second Grade Math, Third Grade Math, Fourth Grade Math, Fifth Grade Math, Sixth Grade Math, Seventh Grade Math, or Eighth Grade Math visit Time4Learning.com.
Here are some fun Math Games from LearningGamesForKids by grade level: Kindergarten Math Games, First Grade Math Games, Second Grade Math Games, Third Grade Math Games, Fourth Grade Math Games, Fifth Grade Math Games, Addition Math Games, Subtraction Math Games, Multiplication Math Games, or Division Math Games.