Word Lists & Lessons

Reading Programs
Grade Level Lists
English / Language Arts

Figurative Language
Grammar
Spelling
Vocabulary

Literature
Math
Science
Social Studies

Educational Topics
Product Info
Training & Help
Funding
High School Integrated Science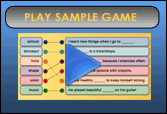 Integrated Science brings together many inclusive aspects of science that students will encounter in the high school science core curriculum. Students need an edge to facilitate achievement when facing subjects of this magnitude. By using study methods that vary and by learning high school integrated science definitions, students can excel even in the most demanding college prep science courses.
High School integrated science lesson plans include many varying and sometimes seemingly disconnected concepts. Through the use of high school integrated science vocabulary drill and practice, students are brought to make this concrete real-life connection between advanced science words and the world around them.
The high school integrated science word lists below take the student on an enjoyable journey through high school science games, interesting integrated science questions, and motivating science writing. Each list is designed to meet the educational science needs of the student integrated with a fun learning method!
Return to Science Vocabulary Overview.

Integrated Science Vocabulary
Words at a Glance
High School Integrated Science

---
Energy: electromagnet, electromagnetic waves, first law of thermodynamics, heat of fusion, hydroelectricity, kinetic energy, nuclear fission, radiation, second law of thermodynamics
Life Science: biosphere, dynamic equilibrium, ecological succession, ecology, energy pyramid, global warming, nonrenewable resource, population growth curve, renewable resource, trophic level
Matter: atomic number, chemical bond, compound, covalent bond, electron, indicator, mass number, pH, rate of reaction, catalyst, aqueous, base, acid, chemical equation, concentration, density, element, ionic bond, molecule. physical property, atom, chemical property, conservation of mass, diffraction, half-life, isotope, neutron, permeability, proton, solubility
Motion: acceleration, centripetal force, circuit, force, gravity, insulator, magnetism, momentum, power, vector, centrifugal force, conductors, current, friction, inertia, machine, mechanical advantage, speed, velocity
Scientific Inquiry: accuracy, control, digital microscope, genetic engineering, hypothesis, Kelvin, model, society, theory, variable, bias, dependent variable, electron microscope, GPS, independent variable, law, precision, technology, vaccine, pathogen
---
For a complete online Science curriculum in First Grade Science, Second Grade Science, Third Grade Science, Fourth Grade Science, Fifth Grade Science, Sixth Grade Science, or Seventh Grade Science visit Time4Learning.com.
Here are some fun Science Games from LearningGamesForKids by category: Science Songs, Science Videos, Science Experiment Videos, Space Games, Weather Games, or Science Experiment Games.
For more kindergarten learning resources, kindergarten math vocabulary words, kindergarten homeschool curriculum, free kindergarten vocabulary games, free science games, and a school science curriculum.