Word Lists & Lessons

Reading Programs
Grade Level Lists
English / Language Arts

Figurative Language
Grammar
Spelling
Vocabulary

Literature
Math
Science
Social Studies

Educational Topics
Product Info
Training & Help
Funding
High School Space Science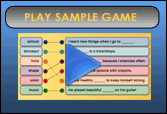 From the creation of the universe to the study of astronomy and the science of astrophysics, space has fascinated generations across the globe. Only recently have scientists developed the tools allowing us to look into the expanse of space and discover both the amazing arrangement of the galaxies and the colossal events of stellar processes. The realization that Earth is part of space, in which it is suspended, awakens curiosity in many students.
Teaching high school space science involves exposing ninth through twelfth grade students to space science vocabulary to prepare them for the demands of tomorrow's world. High schoolers enjoy practicing space science definitions and concepts with engaging vocabulary activities and challenging word games.
Printable worksheets, easily added to high school science lesson plans, bring space science problems down to Earth. Reading and hearing context-rich sentences stimulates students' interest and increases their eagerness to learn. The vocabulary lists aim at strengthening students' comprehension of space science words for out-of-this-world results!
Return to Science Vocabulary Overview.

Space Science Vocabulary
Words at a Glance
High School Space Science

---
The Planet Earth: asteroid, astronomy, carbon cycle, constellation, equinox, gravitational force, meteor impact, ozone, satellite, star cycle, astronomical distance, oscillating theory, eclipse, solar system, comet, moon phases, galaxy, pulsating theory, big bang theory, lunar phases
Marine Science: lunar cycle, zeitgeber, neap tide, tides, semidiurnal tide, spring tide, satellite, phototaxis, GIS, diurnal tide
Scientific Inquiry: asteroids, big bang theory, constellation, eclipse, galaxy, meteoroid, oscillating theory, pulsating theory, rotation, solstice, solar mass, astronomical unit, planets, light year, crescent, revolution, equinox, comet, ampere, moon phase
---
For a complete online Science curriculum in First Grade Science, Second Grade Science, Third Grade Science, Fourth Grade Science, Fifth Grade Science, Sixth Grade Science, or Seventh Grade Science visit Time4Learning.com.
Here are some fun Science Games from LearningGamesForKids by category: Science Songs, Science Videos, Science Experiment Videos, Space Games, Weather Games, or Science Experiment Games.
For more kindergarten learning resources, kindergarten math vocabulary words, kindergarten homeschool curriculum, free kindergarten vocabulary games, free science games, and a school science curriculum.