Word Lists & Lessons

Reading Programs
English / Language Arts

Figurative Language
Grammar
Spelling
Vocabulary

Literature
Math
Science
Social Studies

Educational Topics
Product Info
Training & Help
Funding
Elementary School Geometry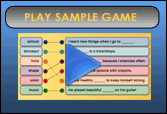 Elementary school is an exciting time as students begin to learn geometry concepts and discover that this branch of mathematics encompasses much more than just shapes, lines, and angles. From kindergarten to third grade, elementary school students do spend time learning shapes and their attributes, but by the 4th grade, they begin to learn shape classification using lines and angles. Older elementary school students also come to understand how to use shapes on coordinate planes to solve real-world problems.
The math vocabulary lists are based on the Common Core Elementary Math Standards. VocabularySpellingCity has selected the elementary math words that apply to the key math concepts and written level-appropriate elementary math definitions combined with meaningful example sentences. Elementary students can use these materials for reinforcement to build understanding or assessment. Teachers can import the lists into their account and then edit or extend the lists for their own purposes.
Return to Math Vocabulary Overview.
Common Core State Standards Overview for Elementary School - Geometry
Identify and describe shapes.
Analyze, compare, create, and compose shapes.

Reason with shapes and their attributes.

Reason with shapes and their attributes

Reason with shapes and their attributes

Draw and identify lines and angles, and classify shapes by properties of their lines and angles.

Graph points on the coordinate plane to solve real-world and mathematical problems.
Classify two-dimensional figures into categories based on their properties.

Source: www.corestandards.org
To learn these geometry concepts, all students must fully understand geometry terminology. This is why VocabularySpellingCity provides fun and entertaining word games based on geometry word lists, along with printable worksheets and even online progress assessments. The elementary geometry word lists conform with Common Core State Standards. As elementary school students have fun learning geometry vocabulary, the understanding they gain paves the way to a fuller grasp of the geometry concepts themselves, ensuring their knowledge of geometry is in great shape!

Geometry Math Vocabulary
Words at a Glance:
Kindergarten Geometry

---
Geometry: square, shapes, pattern, triangle, rectangle, cylinder, halves, cone, in front of, cube, inside, middle, sphere, corner, curves, slide, right, graph, circle, left
First Grade Geometry

---
Description: size, longer, small, longest, smallest, intersect, characteristics, side, parallel, describe
Direction: corner, slide, curves, turn, right, above, below, left, direction, line
Location: location, in front of, between, under, inside, outside, behind, middle, over
Prisms: geometry, prism, line of symmetry, sphere, cylinder, cube, three dimensional, fourths, halves, cone
Shapes: geometry, rectangular, line of symmetry, circle, square, triangle, shape, rectangle, two dimensional, sides
Second Grade Geometry

---
Classification: reflect, set, slide, rotate, measure, turn, angle, column
Description: right, rectangular, perimeter, distance, circular, corner, below, beside, above, left
Prisms: cube, cone, prism, cylinder, face, line of symmetry, dimensions, sphere, three dimensional
Shapes: pentagon, shape, sides, square, triangle, trapezoid, circle, rectangle, symmetry, polygon, parallelogram, plane shapes, hexagon, octagon, two-dimensional , line of symmetry, intersect, geometry, quadrilateral, parallel
Third Grade Geometry

---
Angles: obtuse angle, angle, acute angle, right angle, straight angle, vertex, perpendicular, reflection, congruent, degrees
Lines: side, coordinates, line graph, right angle, line of symmetry, intersecting lines, closed figure, line segment, perpendicular, degrees
Prisms: cube, cylinder, base, cone, face, sphere, prism, solid figure, dimensions, volume
Shapes: polygon, octagon, symmetry, congruent, translation, pentagon, hexagon, rhombus, parallelogram, area
Fourth Grade Geometry

---
Angles: congruent, acute angle, obtuse angle, rotate, straight angle, degrees, angle, right angle, triangle, perpendicular
Classification: similarity, translation, congruent, reflection, rectangular, symmetry, closed figure, open figure, rotation, transformation
Lines: intersection, perpendicular, length, line segment, circumference, point, distance, grid, side, line of symmetry
Measurement: square unit, area, capacity, degrees, distance, grid, radii, height, diameter, length
Polygons: polygon, pentagon, quadrilateral, hexagon, rhombus, pentagon, parallelogram, plane figure, octagon, polyhedron
Prisms: prism, base, face, solid, sphere, horizontal, parallel lines, cube, cylinder, cone
Fifth Grade Geometry

---
Angles: semicircle, acute angle, obtuse angle, perpendicular, degrees, congruent, right angle, straight angle, parallel lines, line
Lines: coordinates, diameter, distance, line of symmetry, intersection, side, diagonal, line segment, horizontal, vertical
Measurement: diameter, circumference, radius, horizontal, turn, translation, reflection, transformation, rotation, symmetry
Shapes: semicircle, rectangular, trapezoid, two-dimensional, tessellation, quadrilateral, symmetry, parallelogram, polygon, prism
---
For a complete online Math curriculum in Kindergarten Math, First Grade Math, Second Grade Math, Third Grade Math, Fourth Grade Math, Fifth Grade Math, Sixth Grade Math, Seventh Grade Math, or Eighth Grade Math visit Time4Learning.com.
Here are some fun Math Games from LearningGamesForKids by grade level: Kindergarten Math Games, First Grade Math Games, Second Grade Math Games, Third Grade Math Games, Fourth Grade Math Games, Fifth Grade Math Games, Addition Math Games, Subtraction Math Games, Multiplication Math Games, or Division Math Games.